Charging Through New Zealand with the Chrysler Valiant Charger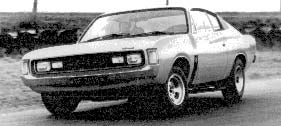 Leo Leonard in his Charger
Gary Bridger wrote: "one of our club Charger E49s has been shipped to Illinois, USA, the first Aussie 6 Pack Charger to go to the USA. It has been an absolute sensation since it arrived and has done a 13.5 quarter stock standard with slicks!"
About the Valiant Charger in New Zealand
The mighty Australian 265 Hemi Chrysler (Valiant) Chargers found their form not in their native land, but on the racing circuits across the Tasman Sea in New Zealand.
Way back when Americans still thought "high performance six" was a paradox, Chrysler of Australia took an abandoned North American truck engine and turned it into the hottest six around. The 265 Hemi Six Pack with its hemispherical heads and three two barreled Weber carbs, may have made Americans smile, they thought only the pounding 426 was a Hemi, and six packs were on the 340 and 440 V8s. Impressive as these engines were, none were as light or as small as the 265. The Australian 6 pack Hemi Chrysler Chargers would not only match the mighty US V-8s in a straight line; the lightweight, short wheelbase coupes would also blow their big American relatives to the dust around corners.
Despite their awesome performance and dynamics, the 6 Pack Chrysler Charger R/T E49s were never dominant on the racing circuits in their native land; Australia. It took New Zealand to make these Mopars dominant in racing.
The Australian Chryslers were exported to the UK, South Africa, New Zealand and throughout South East Asia and the Pacific. New Zealand was by far their largest export market.
Gary Bridger is the North Island branch co-ordinator of the Chrysler R/T 6 Pack owners Club Inc. Gary is an excellent writer and contributed many articles to magazines such as Hey Charger and NZ Classic Car as well as the Marque Publishing Company books on the Australian Chryslers. Any inaccuracies were most likely added by the Webmaster.
The New Zealand Chrysler Valiant Story, by Gary Bridger
Todd Motors were the NZ Chrysler distributors. Todds assembled Chrysler Valiants at their plant in Wellington between 1963 and 1979. The NZ assembled Chryslers were generally identical to the Australian versions with a few variations. They featured different NZ made interior trim and stiffer suspension settings to cope with the sometimes winding, mountainous NZ roads. There was some export models that were sold in NZ that were not seen in Australia.
Todd Motors did an excellent job marketing Chryslers in NZ. They only imported or assembled the upmarket models, which gave the Chryslers a much more prestigious image than they had in Australia. Chrysler Valiants actually outsold the Australian Ford Falcons in NZ right up to the early 1970s.
Todds generally assembled only the four door sedans with upmarket trim and equipment. Station wagons, coupes and performance models were imported built up from Australia. The exception to this was the Chrysler Charger. The Charger was to the Valiant what the Mustang was to the Falcon; a good looking sports coupe based on the sedan with a wide variety of models and options available. It was a stunning sales success in both countries. Lee Iacocca would have been very proud of the Australian Chargers.
Todd Motors assembled the VH and VJ Chrysler Charger 770 203hp Hemi 6 auto between 1971 and 1976. It was the only time an Australian coupe was assembled outside Australia. The NZ Charger 770 was practically identical to the Australian versions but came with the standard 203hp Hemi, a limit slip diff, slightly different trim with non-reclining front bucket seats and no rear bumper over-riders. A high number of the performance R/T Chargers was imported into NZ both by Todds and privately.
According to Mike Todd, (one of the Todd family who now owns an immaculate E49) there was heated debate within Todds as to whether they should assemble the Chargers in NZ at all. There was much more debate as to whether Todds should be involved in motorsport and sponsor Chrysler racing teams in production car racing. The end decision to do both paid off very handsomely.
As in Australia, the Charger was an instant sales success in NZ. There as even a black market for Chargers with some selling for NZ$1000 more than the list price of $4975.
Gary Bridger on the racing record
Chryslers were highly successful in NZ production saloon car racing throughout the 1970s and early 1980s. The Chrysler Charger was the most successful standard production racecar ever on NZ circuits.
NZs premier production car race was the annual Benson and Hedges 500 mile (later 1000km) race at Pukekohe near Auckland. The race was for unmodified NZ assembled production cars only. Chrysler Valiant Regal 770 318 V8s won the event in 1970 and 1971. Chrysler Charger 770 265 Hemi 6 autos won the event for an astonishing seven years in a row between 1972 and 1978. That gave Chrysler a nine-year domination of the B&H, which at the time was as big in NZ as Bathurst is in Australia and Daytona is in the US.
Chargers won against V-8 (GM) Holdens including a V-8 four speed manual Monaro, V-8 Ford Falcons, V-8 Leyland P76s, Triumph 2.5PIs, Mazda RX2s, Fiat 125Ts which were NZ specials built to win the B&H and even a Jaguar XJ6. There were many top drivers who tried and failed to break the Chrysler dominance in this event. Todds were originally going to assemble 200 specials for the B&H with the warmer 218hp Hemi and a four-speed gearbox. However this was not to be and race drivers and consumers were stuck with the 203hp Hemi 6 auto. The 203hp Hemi 6 was actually the least powerful of all the 265 Hemis. Despite this apparent handicap, the 203hp Hemi 6 auto Chargers proved to be faster than the 318 V-8 Valiant sedans that won the big race in 1970 and 1971. The Hemi 6 engine was not only very powerful; it was also very sturdy and reliable. There were very few Chargers that retired in the B&H 500 due to engine problems. Yes, that engine certainly proved to be a winner. Imagine if Chrysler had kept it for their Jeeps!
The most successful NZ Chrysler driver at the time was Leo Leonard from Timaru in the South Island. Leo won the B&H seven times, four times in Chryslers. As if to prove the virtues of the Chargers, Leonard switched to a V-8 Ford Fairmont in 1978-but landed third place behind two Chargers.
Leo also raced the Chrysler Charger R/T E38 and E49 in NZ between 1971 and 1974. These cars and were effectively road going racing cars and featured the mighty Italian developed Treble Weber 265 Hemi 6 Pack engines. They were limited edition specials built with one purpose in mind; to win Australia's big race at Bathurst. They were not eligible for NZs big race, the B&H 500 because they were not NZ assembled. They never won Bathurst but they were highly successful around the tight NZ circuits. The E38 Chargers had been rushed into production to be eligible for Bathurst 1971. They possessed phenomenal straight-line performance (0-60 mph in 6.3 seconds, 0-100 mph in 16.8 seconds) but their fully adjustable track suspension had yet to be sorted and they only had a three-speed gearbox.
When Leo Leonard first took his E38 out onto the track he was impressed with its performance but wasn't happy about the cars handling. Leo and his team spent countless hours sorting the E38s handling on his home circuit at Timaru. They eventually raced it with three degrees of negative camber on the front wheels and tires worn close to their limit. Their hard work paid off and their E38 was transformed into a race-winning thoroughbred. It was competitive against the (GM) Holden Torana XU1s and 351 V8 Ford Falcon GTHOs and even a Porsche. The E38 started to win races and broke the lap record on two of the tightest circuits in NZ.
In 1972 Leo swapped his three-speed 280hp E38 for a four-speed 302hp E49. He set the E49 up exactly as they had the E38 and right from the first race the E49 was unbeatable. His E49 easily won the group one division of the 1972/73 Castrol GTX series and shattered the lap record on all NZ circuits. The series became a Chrysler benefit with other E49s coming second, third and fourth overall.
The Ford Motor Company even sent Allan Moffatt and his 351 V8 Ford Falcon GTHO to NZ to take on the Kiwi Chargers. The Falcon GTHO was dominating production car racing in Australia at the time. To their surprise, Leo Leonard's Charger E49 was faster than the Falcon on the two occasions the two cars met. At the time, Moffatt described Leonard's E49 as the fastest Charger in the world. Leo later said he was happy with the performance edge his E49 had over the Falcon.
All you have heard about the incredible Chrysler Charger R/T E49 is true. At the time of E49s release, it's 302hp treble Weber 6 Pack Hemi was the most powerful production 6-cylinder engine in the world. A little known factory option was a Bathurst cam, which upped the power to a rather healthy 325hp! The 265 Hemi 6 Pack engines also have a magnificent spine tingling howl all of their own.
Wheels magazines 1972 road test of the E49 recorded 0-60mph in 6.1 seconds, 0-100mph in 14.1 seconds, standing quarter in 14.4 seconds, top speed 132mph. This made the E49 the fastest accelerating production car in Australia and the fastest accelerating production 6-cylinder car in the world. Not bad for a 25 year old stock standard 6-cylinder Valiant! Today with modern tires, NZ E49s have easily broken the 14-second barrier through the quarter and with higher gearing, NZ E49s have been timed at over 150mph.
Wheels (1972) said of the E49: ìWhere the Charger is absolutely unbeatable is in winding mountain country. We don't mean tight hairpin bends, though it is still horribly quick through these, but on fast open sweepers and meandering switchbacks. The raw quivering power is instantaneously on tap and with a ratio for every conceivable situation the Charger just storms through and it would take a Ferrari Daytona with Jackie Ickx behind the wheel to stay with one.
Chrysler Chargers continued to compete successfully in NZ up until the early ë80s winning every major production car event in the country. Other major race wins include the Golden 100 Pukekohe 1972, Shell 100 Levin 1972, Glenvale 200 Bay Park 1975, Splashe 200, Manfeild 1975, Albert Autos 500 Manfeild 1977.
But wait, there's more:
Just when I thought I knew everything there was to know about Chrysler's impressive racing track record in NZ I met Jim Little. Jim is a colorful character from Timaru who has been racing Mopars since the early 1970s. Jim is a spectacular but very capable driver and his track record in Mopars is truly amazing. Jim has steadily clocked up a string of major race and series wins in his Charger R/T E38 (fitted with a four speed) and a wicked looking black Valiant Regal 318 V8. In 1992, Jim won the Southern 500 at Christchurch in the E38 despite it being the oldest car on the track! He is currently building a Charger R/T 265 with twin turbos.
Some of Jim Little's achievements racing Valiants in New Zealand
1972
S.I. Production Saloon Champion (1)
1984
2nd 200 km Endurance - Teretonga (1)
1975
3rd - N.I. Winter Saloon Series (1)
1986-88
Pre 65 Champion (2)
1976
1st - B&H 1000 - Pukekohe (3)
1990
Pre 65 Valiant Flying Quarter - 155 mph (2)
1978
S.I. Production Saloon Champion (1)
1990-91
Pre 65 Champion (2)
1980
1st - Southern 200 km Ruapuna (1)
1992
2nd Overall Pre 65 (2)
1980-84
S.I. Production Saloon Champion (1)
1992
1st- Southern 200 km - Ruapuna (1)
1983
2nd 200 km Endurance - Teretonga (1)
1992
1st Nissan Mobil 500 Pre 65 Support Race (Wellington) (2)
1984
1st 200 km Endurance - Levels (1)
1993
2nd Overall Pre 65 (2)
(1) E49 Chrysler Valiant Charger      (2) Valiant AP6 318       (3) 265-powered Chrysler 770 automatic
Why were Chrysler Chargers so successful on New Zealand racing circuits when they had a somewhat mediocre track record in their native Australia? Jim Little said that the short wheelbase Chargers with their light, powerful Hemi engines were ideally suited to the tight NZ circuits as opposed to the larger, more flowing circuits in Australia. While the 351 V-8 Ford Falcon GTHO dominated the long, fast track at Bathurst, the Chargers were in their element around the tight circuits in New Zealand. Leo Leonard contributed the speed of his E49 to all the development they put into the earlier E38. I might add that Leo was also a superb driver who had a happy knack of getting the very best out of any car he drove.
The Chargers dominance in the B&H 500 has been contributed to the excellent performance provided by that marvelous Hemi 6 engine, good handling and legendary reliability. There were many occasions where the Chargers just kept on going when other makes literally fell apart during this grueling event which has been described as one of the toughest long distance events in Pacific region.
Another perhaps decisive contributing factor to Chrysler's dominance in NZ could be absence of the powerful GM and Ford racing teams. Although Todd motors did sponsor Leo Leonard in his E49, this was a pittance compared to the big budget GM and Ford teams that existed in Australia. In NZ there was a much more level playing field.
The twilight years
Despite Todd Motors skillful marketing and the Chargers sales and competition success, the 1970s saw a decline in Chrysler's fortune in NZ. The large conservatively styled VH Valiant sedan, which the Charger was based on, did not find favor in NZ and there was strong competition from GM and Ford. The 1973 oil shock and subsequent recession saw NZ buyers switching to smaller, more fuel-efficient cars. Todd Motors started assembling Mitsubishis at their Wellington plant and soon their loyal customers were swapping their big Chrysler Valiants for Mitsubishi Lancers, Sigmas and Magnas.
Despite the decline in sales throughout the '70s, Todd Motors still managed to maintain that upmarket image for the Chryslers. They never discounted or introduced cheaper models, as was the case in Australia. Todd Motors assembled their last Chrysler in August 1979 and continued to import built up cars until Australian production ceased in 1981. The last models to be assembled in NZ were the CL Hemi 6 Auto sedan and the more upmarket CL V-8 Regal sedan. In 1986, Todds sold the assembly plant to Mitsubishi and today the plant still assembles a range of Mitsubishi vehicles.
Post Scripts
In 1996, Chrysler returned to the NZ with a spectacularly successful launch of the Jeep Cherokee range. Good product, good timing, smart marketing and excellent pricing created a demand that was 300% higher than expected. The Jeeps are currently enjoying a 4WD market share higher than any other export market. Chrysler is currently selling the Jeep Wrangler, Cherokee (gas and Diesel), Grand Cherokee, Voyager, and Neon in NZ. The Voyager and other models are due for release this year. The Grand Cherokees and Voyagers are both assembled RHD in Austria. I just wonder if the good image and reputation the Australian Chryslers had in NZ back in the '60s and '70s have in any way helped the successful return of Chrysler to NZ?
On a possibly unrelated note, Mitsubishi has announced that it will close the plant where Valiants were assembled in New Zealand next year.
(Webmaster's note: North Americans may be unaware of the Diesel engine options in many of Chrysler's export vehicles, including Caravans. A new 1.9 liter turbo Diesel is being developed for future exports as well.
Today there are a disproportionately high number of mint and collectable Chryslers remaining in NZ. A very high number of Charger R/Ts were imported to NZ both by Todd motors and privately. Most of the Six Pack Chargers including approximately 25 E49s imported are alive and well today. There are also thousands of Chrysler Valiants still daily use in NZ, their owners swearing by their rugged mechanicals and unstoppable reliability. Prices for NZ assembled Charger 770s range from NZ$4000 to NZ$12000. Six pack Charger R/Ts fetch between NZ$15000 and up to NZ$40000 for top E49s.
For those who own a Chrysler Charger R/T
The Chrysler R/T Six Pack Owner Club (Inc.) was formed in Christchurch over ten years ago for owners of genuine factory R/T and Six Pack Chrysler Chargers. The club is now nation-wide and the majority of Six Pack Chargers in NZ are registered with the club. Racing driver Jim Little is a foundation member and the membership has benefited greatly from Jim's experience and considerable technical knowledge. For information about the club or Chryslers in NZ, contact Gary Bridger.

Members of the Chrysler R/T 6 Pack Owners Club, Inc., South Island Branch
Publications on the Australian Chryslers
Hey Charger! by Gary Bridger
The Valiant Book by Tony Davis
Spotlight on Chrysler Valiant: The 1960s by Tony Davis
Spotlight on Chrysler Valiant: The 1970s by Tony Davis
Spotlight on Valiant Charger by Tony Davis
Spotlight on Aussie Bathurst Supercars by Tony Davis and Andrew Quinn
Chrysler Valiant by Elisabeth Tuckey and Ewan Kennedy (new release)
Marque Publishing Company produces all the above books. They produce a wide range of books on all Australian makes and their Chrysler books are all well presented and accurate. The Valiant Book was their first on the Australian Chryslers and it is still a very good read. It contains some excellent period road tests including the Wheels magazine tests on the Charger XL, V8 770, E38, E49 and E55. The Spotlight series books are all well illustrated and contain road tests from Motor magazine. Chrysler Valiant is their latest release and it covers all the Australian Chryslers from 1962 to 1981. It is very well illustrated and has a motor racing section.
All these books are available from Beven Young.
Hey Charger magazine is published by Federal Publishing Company approximately every 6 months. Hey Charger 6 has an article on Chargers in NZ titled Kiwi on the Charge written by Gary Bridger. An article on the Charger E49 written by Gary appeared in the December issue of NZ Classic Car magazine.
My thanks to Jim Little, Leo Leonard, Mike Todd and other members of the Chrysler R/T 6 pack owners club for providing information for this article.
Australian Valiants and Chargers | Hemi Sixes
Valiant Search
Cars
Sections
Regions
Technical
Performance