The Chrysler Valiant Pacer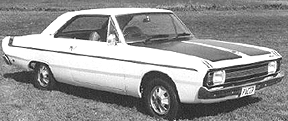 Valiant Pacer with the Hemi 245 engine.
The primary information source was a magazine sent by Robert Pascale: Hey Charger! (edited by John Wright). Information was added later by others. We will be using the excellent book Hey Charger! soon.
Chrysler brought out the sporty Pacer in 1969. Powered by a high-performance slant six, it featured a beefed up suspension, floor-mounted four-speed, snarly exhaust, and built-in tachometer. The slant six put out about 170-180 hp, and the quarter mile was about 17.8 seconds, quite good for the time.
Tim Ireland wrote:
The VF Pacer was only available as a 4 door sedan and with a 3 speed manual floor shift. The VG Pacer (1970) was the first model to offer a Pacer 2 door coupe (as pictured at the top of the Valiants down under page).

The VG Pacer sedans were available as the standard Pacer (245 Hemi, 185 hp with 2 bbl), E31 Pacer (High Performance 250 version of the 245, with a 2 bbl carb, about 195 hp)and the E34 Pacer (Even higher ouput version of the 250 E31 engine with a 4 bbl carb, wilder camshaft, etc, around 235 hp).

All these were fitted with 3 speed floor shift manual gearboxes as Chrysler Australia's policy was to use locally produced components... and there wasn't a suitable local 4 speed available at that time! The VG Pacer coupe was not available with either the E31 or E34 engine options.
The Pacer got new power in 1970. Its new, Australian engine used hemispherical ("hemi") heads in a 245 cubic inch in-line six, a two-barrel carburetor, and a higher lift cam. The Pacer, with a four-barrel carb, could do the quarter mile in under 16 seconds.
A 1972 VH Pacer Sedan, with a manual 265 two barrel, originally sold for $3235. The engine ran 218 hp (163 kW) @ 4800 rpm, 273 lb-ft (370 Nm) @ 3000 rpm. Top speed 112mph (179km/h), 0-60 mph 7.6sec, standing quarter 15.9 sec, weighing in at 3120lb (1415kg). (Stats courtesy Craig Cummerfield)
The next year, the VH models came out. The VH Pacer had a higher performance 265, and it set a record for being the fastest mass-produced four-door sedan with a six cylinder engine produced in Australia (the record was indisputed until 1988). The relatively inexpensive Pacer's 265 had 218 hp and 273 lb-ft, leading to a 15.9 second quarter mile, 8 second 0-100 km/h, and top speed of 185 km/h (with a three-speed).
Essential Links
Visit the Chargers of New Zealand page to get further insights and information on the Valiant Charger and its admirable racing record.
Valiant Search
Cars
Sections
Regions
Technical
Performance