Dodge Dart: the Plymouth Valiant knockoff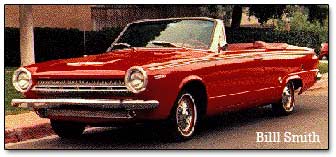 The Dodge Dart should never have existed, given the Chrysler Corporation hierarchy, but it did, and the car was a sales success for nearly its entire run.
In the 1950s, American automakers knew they needed small cars. In addition to bringing in cars from their own European operations, which flopped, all three created new cars. GM brought out the Chevrolet Corvair, whose problems were described by John DeLorean in On a clear day you can see General Motors. Ford brought out the Falcon, a big car that was reduced in size and capability, meant to be built cheaply and to be thrown out after a short time; the first year saw well over 400,000 units sold, but they rusted out quickly, and the brand died within ten years, leaving in its wake the incredibly successful Mustang.
Chrysler introduced a new car directly between the Corvair and Falcon in conventionality, and far ahead of either in reliability: the Valiant. At first, Valiant was to be a brand of its own, but the company quickly realized that had its 200,000 sales been included with Plymouth's, then Plymouth could have been the third-place brand in sales in 1960; so it was rebranded for 1961.
Some say that the Valiant was originally intended to have a high-revving four-cylinder and mid-engine design. Those did not survive the first mules, but the Valiant was one of the first cars to have an alternator, and got a smaller, lighter Torqueflite automatic with the company's first Park position. The exterior was flashy and different, with Virgil Exner determined to make it unique. The Valiant was the only 1950s small-car design to make it into the 1970s, and Chrysler consistently gained over 30% of compact car sales in the mid to late 1960s.
The sales success of the Valiant quickly brought Dodge executives to top management, demanding their own version. Dodge was positioned between Chrysler and Plymouth, similar to Oldsmobile; Dodge cars were priced accordingly. In the large-car segment, the same basic body was sold by all three with different levels of pricing, comfort, and flash. For many years, Dodge and Chrysler had enjoyed V-8 engines while Plymouth had six-cylinders, and then had Hemi engines while Plymouth had poly-head V-8s.
The first Dodge car based on the Valiant was the Dodge Lancer. The Lancer retained much of the Valiant's styling, but had fancier trim and a more upscale interior; base engine was the 170 cubic inch slant six, with the 225 optional. Its sales neared 75,000 units - disappointing in those days.

There was another car called the Dodge Dart at the time, a compact model for Dodge (it was, in fact, a copy of another Plymouth) but still a "mid-sized" B-body, with a 118 inch wheelbase. It was 700 pounds heavier and nearly two feet longer than the Lancer. Sales were quite good for 1960, with over 300,000 Darts sold; but in 1961, just 167,678 were sold, and in 1962, only 148,356 sold, not what management was hoping for. Dodge managers, looking at the Lancer's sales - under 65,000 in 1962 - solved two quandaries at once, dropping the Lancer's name, and bringing in a new Dodge Dart.
Specifications
1961 Lancer
1961 Dart
1972
Dart
Wheelbase
106.5
118
110.0
Overall:
Length
188.8
209.4
196.2
Width
72.3
78.7
69.6
Height
53.3
54.8
54.0
Ground Clearance (loaded)
5.4
5.1
Seat Height:
Front
11.2
11.4
Rear
13.7
13.3
Headroom:
Front
37.9
37.8
38.7
Rear
37.4
38.0
37.3
Legroom:
Front
42.8
45.1
41.5
Rear
39.8
42.1
35.9
Hiproom:
Front
56.8
63.8
Rear
56.9
62.9
Shoulder Room:
Front
54.0
60.4
55.4
Rear
54.1
59.8
55.5
Trunk Capacity
24.9 cu. ft.
31.6 cu. ft.
The 1963 Dodge Dart was moved to the Valiant's chassis, but with unique, clean, and rather understated styling and a longer wheelbase (111 inches instead of 106 inches), to get closer in size to the old "small" Dodge Dart; the Dodge Lancer was too small for the Dodge image. Thus, Plymouth Valiant cars would ride on a stretched wheelbase when sold as Dodge ars, which helped to justify their premium pricing; buyers got an extra 4.5 inches of length, some extra features, nicer trim, and unique Dodge styling. Sales immediately shot up, compared to the Lancer. [1963-1966 Dodge Dart details at allpar]
V8 power, from a 273 cubic inch lightweight-casting A-engine, arrived in 1964, making the Dodge Dart's name more appropriate. Unlike an actual dart, though, the Dodge Dart could handle turns well.
1966 Dimensions
Dodge
Polara
Dodge
Coronet
Dodge
Dart
Wheelbase
121
117
111
Length (except wagons)
213.3
203
196
Width
80.0
75.3
70.8
Tread (max)
62.0
59.5
55.9
Wagon length (2-3 seat)
217/218.4
208/209
190
Front seatback to tailgate
96
92"
84
Rear opening max height
29.5
30.4"
26
Width between wheel-wells
44.9
45.3"
43.5
Max cargo volume (wagon)
97 cu ft
88 cu. ft.
68 cu ft
In 1966, the Dodge Dart had V8 power from a 273 cubic inch engine as well as the 170 or 225 cubic inch slant-six. Three models were available, the Dart (170), 270, and GT, each with different options. The grille had a clear Dodge Coronet influence, while the tail was unique among the Dodges. The 270 was the most popular series, followed by the base model, wagon, and, trailing, the GT; only about 10,000 GT V8 models were made (along with fewer than 9,000 GT sixes).
Outside of the GT, the sixes easily outsold the V8s, but the V8 was unquestionably popular. Nearly 113,000 Darts were sold in 1966 (not far from the Valiant's sales). [1963-1966 Dodge Dart details at allpar]
| | | |
| --- | --- | --- |
| 1968 specs | 1968 318 V8 (Dart) | 1970 340 (Swinger) |
| Gross Horsepower | 230 hp at 4400 rpm | 275 @ 5,000 |
| Torque, lbs.-ft. | 340 at 2400 rpm | 340 @ 3,200 |
| Compression ratio | 9.2 to 1 | 8.8:1 |
| Bore, inches | 3.91 | 4.04 |
| Stroke, inches | 3.31 | 3.31 |
| Displacement, cu. in. | 318 | 340 |
| Carburetor type | 2-bbl. | Carter AVS-49335 |
| Air cleaner type | Silenced | same |
| Exhaust | Single | Dual |
| Fuel | Regular | Premium |
In 1968, "Mr. Norm" custom-built a number of Dodge Dart GT cars for racing purposes, installing a full 426 Hemi into the small car - somehow. In 2007, "Mr. Norm" started custom-building another run of these Hemi-powered 1968 Darts.
The Dodge Swinger model, an upscale version of the Dodge Dart (mostly sold in two-door form), was sold starting in 1969 as the cheapest two-door model (replacing the two-door sedan of 1968), and was also sold by Plymouth in two-door form as the Scamp. The hot version was the Dodge Swinger 340, a Swinger with, not surprisingly, a 340 cubic inch V8, which made the Swinger into a fairly hefty muscle machine. The other two-door hartops were Custom, GT, and GTS; GT and GTS were gone when the 1970 models were introduced.
1970 Dodge
Dart Swinger
1971 Dodge Demon
Front
Rear
Front
Rear
Headroom
37.3
36.8
Legroom
41.7
31.8
Shoulder room
55.4
55.4
Hip room
57.2
57.2
Wheelbase
111
108
Length
196
192.5
Width
69.7
71.6
Height
53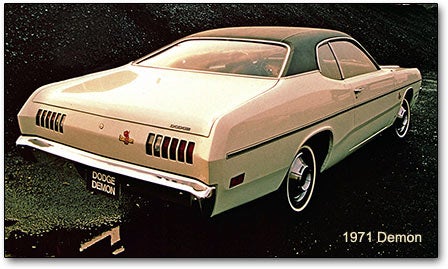 For 1971, the Dodge Demon, a copy of the wildly successful Plymouth Duster, appeared; the Custom hardtop became the Swinger, and the old Swinger became the Swinger Special. All were sold with much less success than the Duster; and when Plymouth returned the favor by bringing out the Scamp, a clone of the Swinger, it sold moderately well, but not nearly as well as the Duster itself. The Duster/Demon 340 had 16 cubic feet of trunk space (far more than the Valiant) and weighed around 3,353 pounds.
Road Test magazine tested the Dodge Demon 340 in April 1971. They got from 0 to 60 in 7.8 seconds - with an automatic transmission and bias-ply tires - and ran through the quarter mile in 14.6 seconds at 96 mph, with a top speed of 127 mph.
Gas mileage was at 14 city, 17 highway, not far from the standard 318 and reasonably close to the slant six. Cornering, finish, luggage, performance, steering were rated excellent; details, instruments, quietness, ride, visibility, overall were rated very good. The base price was $3400 including tach, stereo cassette, and automatic.

1972 Dart, Demon, and Swinger info/specifications.
1975 Dodge Dart and Swinger info/specifications.
For 1973, the Dodge Dart had a 111 inch wheelbase and torsion-bar suspension (Dart Sport was 108 inches); new features for 1973 included standard electronic ignition and an optional sliding metal sunroof on two-door models.
The Dodge Dart 340 Sport, formerly the Dodge Demon, kept its 340 four-barrel V8; it was still a hot car, with 240 net horsepower and light weight. The Dart Sport had an optional utility package providing six and one half feet of carpeted cargo area with the security panel and rear seat folded down; or a capacious (especially compared with the standard Dart) trunk with everything in the normal position. Both front and rear seats folded down (except the driver's seat). An electric heated defroster was available for the rear window. The 198 slant six was still available (except in California), along with the 225 slant six; the 318 was optional except on Dart 340 Sport, for obvious reasons.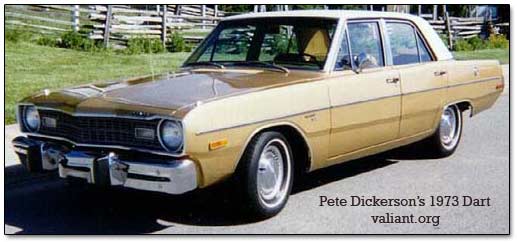 The Dodge Swinger remained a two-door Dodge Dart with styling similar to the four-door car. Standard equipment included a vinyl front seat (except Sport, Swinger Special, and Dart Custom, which got cloth and vinyl), simulated woodgrain, two-speed wipers, front armrests, deep pile carpet (except Dart and Swinger Special), dual horns on Custom and Swinger, and a heater/defroster. The base transmission was a three-speed manual, with an optional Torqueflite; the Dart 340 Sport could also have a four speed manual.
| | | | | |
| --- | --- | --- | --- | --- |
| 1973 ENGINE | 198 | 225 | 318 | 340 |
| Bore x stroke | 3.40 x 3.64 | 3.41 x 4.13 | 3.91 x 3.31 | 4.04 x 3.31 |
| Carb | 1-barrel | 1-barrel | 2-barrel | 4-barrel |
| Compression ratio | 8.4:1 | 8.4:1 | 8.6:1 | 8.5:1 |
| Horsepower @ rpm | 95 @ 4,400 | 105 @ 4,000 | 150 @ 4,000 | 240 @ 4,800 |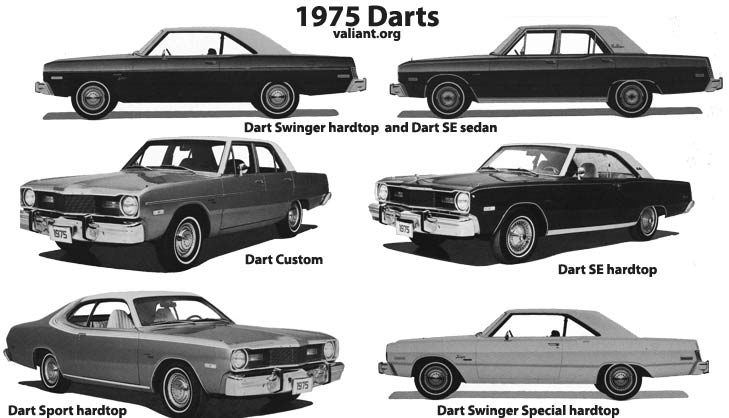 The Dodge Dart would remain essentially a higher-trim, extended-wheelbase Valiant with different styling until 1968, when the redesign left both vehicles looking nearly identical, save for their front and rear clips; even then Dodge Dart would keep its extended wheelbase. Not until 1974 would the Plymouth Valiant finally be put onto the Dodge Dart wheelbase. Like the Valiant, the Dart was replaced in 1976 by a differently named but essentially similar vehicle, the Plymouth Volare and Dodge Aspen.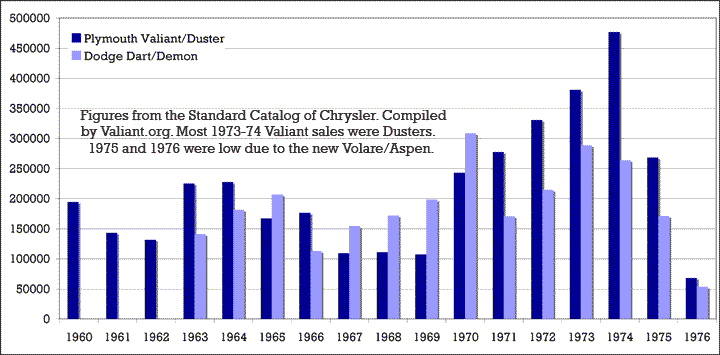 Thanks to Bill Watson for his corrections.
1960-1962 Dodge Dart at allpar | 1963-1966 Dodge Dart details at allpar
Valiant Search
Cars
Sections
Regions
Technical
Performance