The 1967 Plymouth Valiant, Dodge Dart, and Plymouth Barracuda cars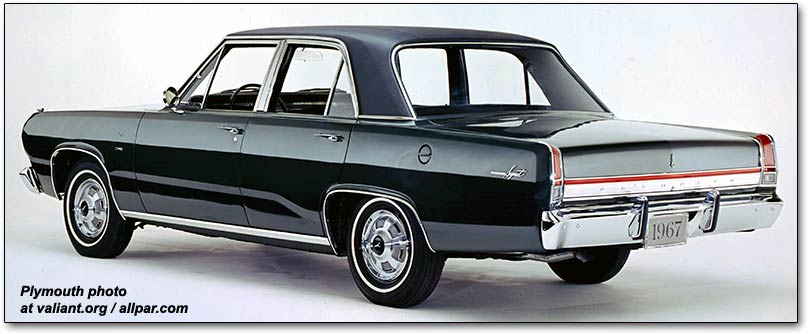 Valiant: Mini Mercedes?
A mini Mercedes is what Plymouth product planners were calling it, according to Hot Rod's writers. The claim reveals something about the engineers' thoughts as they designed the car. Unlike its sibling, the Dodge Dart, the Valiant had no sporty hardtops or convertibles for '67; those bodies had been moved to the new Barracuda line. Thus the Valiant was slated to be the corporate "formal" compact while the Dart would carry the sporty image.
As a low line V-100, the Valiant looked like the economy vehicle compacts were originally intended to be. But when decked out with vinyl roofs, rubber edged bumper guards and bright trim on the window frames, wheel wells, rocker panels and trunk lid as on the upscale Signet, it did take on the aura of a junior luxury car.
"The new styling did not have a fast or powerful 'look,' but was graceful," said the late Plymouth historian Don Butler, "a combination of crisp beveled edges, angular but gently-crowned planes, and subtle contour sculpting."
The divided grilles were separated by a filigreed Plymouth emblem, the taillights followed the rear contours. wrapping up onto the fender tops, and tile side windows featured the first use of curved glass on a compact. Although its overall length was unchanged, Valiant's wheelbase was stretched two inches to 108, the same as the new Barracuda platform. The body was also widened two inches, also matching the Barracuda dimensions.
There were just two Valiant models, the 100 and the Signet. Through 1966 the latter was either a hardtop or convertible. For '67 it was "just" a sedan with either two or four doors. However, with the above mentioned trim and optional bucket scats and a possible four-on-the-floor if equipped with a V8, it could relive some of its past glory, most of which went over to the Barracuda line.
There was a Valiant 200 but technically it was a decor option for the 100 offering full-length bright body moldings, a interior mid-range between the 100 and the Signet plus a greater choice of interior and paint colors than available on the 100. For the first time, no wagon version of the Valiant was available. Plymouth, for one year, vainly attempted to replace it with a stripped-down Belvedere wagon.
Engine choices remained: 170 and 225 Slant Sixes and 180 hp and 235 hp 273 V8s, the latter being the four barrel 273 Commando, likely a rare option for tile new "formal" compact.
Barracuda: On its Own...
Although last introduced (Nov. 25, more than two months after the other Plymouths' Sept. 19 introduction), Plymouth Barracuda was hardly least. "Unquestionably the best-looking car in 1967," said Car and Driver. "One of the toughest looking cars this year," said Hot Rod's Eric Dahlquist, "probably the best composite of lines and curves ever issued from Chrysler...why in the world didn't they let these designers loose a lot of years ago?"
The new Barracuda, the product of the design team of Plymouth Chief Stylist Dick McAdam, represented Chrysler's first application of the flowing-curves style introduced by General Motors in 1965. It was the perfect candidate because, unlike the other Plymouth lines for '67, Barracuda didn't have a sedan to compromise its sporty styling. The first generation Barracuda was basically the opposite, a fastback roof grafted on a Valiant body. After three seasons, Barracuda was on its own, the hardtop coupe and convertible that had been Valiant's were moved over to the new Barracuda line.
The fastback, nevertheless, remained the flagship of the Barracuda line. Indeed, the new Barracuda seemed purposely designed for the fastback style and, in a reversal of 1964, the hardtop and convertible seemed afterthoughts. With the three body styles, Barracuda matched Mustang, which had been marketing hardtops, fastbacks, and convcrtibles since 1965. However, Plymouth decided not to match Mustang's long-hood-short-deck dimensions that had also been adopted by the new-for-'67 Cougar, Camaro and Firebird.
For all its new good looks, the Barracuda suddenly seemcd a bit out of style. Although it was separated from the Valiant line, Barracuda still shared Valiant's chassis, cowl, and windshield, which not only dictated its fore-and-aft dimensions but also its height. A driver sat higher in a Barracuda than in its competitors, comfortably practical but not as sporty.
Ironically, it had been Plymouth which had championed the long-hood/short-deck style on its 1960 Valiant and 1962 Plymouth. But after the sales disaster of 1962, it was quickly abandoned, only to be pickcd up by Ford's Mustang two years later. When Barracuda finally adopted the accepted sporty car dimensions in 1970, its profile appeared similar to that of the '67 Camaro while, in another irony, the new 1970 Camaro sported a fastback roof that seemed to be a direct copy from the '67 Barracuda. Had the '67 Barracuda had been designed in the long-hood, short-deck style, General Motors might never have introduced its 1970 Camaro/Firebird for fear of accusations of blatant plagiarism!
Buyers, too, seemed to agree that the Barracuda was designed to be a fastback. The Sports Fastback (as Plymouth officially called it) nearly matched the sales of the Hardtop Coupe (also official nomenclature) and convertible combined. Although welcome additions to the Barracuda line, the latter two, with their high cowls and conventional hood and deck dimensions, seemed to be more sporty compacts than sporty car competitors to Mustang, et al. .
''If they'd only put a 383 in it,' the auto editors chorused when we first saw the car," wrote Eric Dahlquist "'It would fit, too; the body's two inches wider than in '66, but they probably won't. You know Chrysler.''
They didn't know Chrysler very well, Dahlquist had to confess, because "that's exactly what they went and did." The two extra inches provided just enough room for a 383 under the Barracuda's hood. Restrictive exhaust manifolding helped keep its horsepower down to 280, compared to its 325 hp counterpart in the bigger Plymouths. (The 325 hp version apparently did become available in the Barracuda later in the model year.) The big engine left room for neither air conditioning nor the power steering that would have been especially welcome in such a front-heavy car. And changing spark plugs on a hot engine was "almost suicidal" according to Dahlquist.
1967 Dodge Darts
The Dart was reskinned for 1967, with angular convex sides and new front and rear treatments. Dart wagons disappeared and the convertible was only available in GT trim. The Dart was made more rigid thanks to more strengthening members, with reinforced steel bows for the hardtop roof. As an extended version of the Valiant, the Dart rode on an extended wheelbase, the largest of any compact in the industry - 111 inches, allowing for good legroom. Body styles included four door sedans, and two door hardtops as well as the two door convertible GT, which was given a glass backlight in 1967 to replace the troublesome plastic used in the past. (The GT was also given black headliner and a stamped steel roof frame that folded away). Optional wide tires forced a two inch increase in track for clearance, and the bodies were lowered, giving the Dart a sportier stance.
Standard engine was not surprisingly the smallest slant six, pushing out 115 gross horsepower (a 14 hp increase over 1966, due to a hotter cam from the 225 cid slant six, which put out 145 hp); it was more responsive with the automatic due to a new 1/3-pedal kickdown, so it didn't have to be floored for acceleration. The small 273 V8 continued unchanged in two and four barrel carburetor versions. The alternator was lightened, with better waterproofing on engine wiring. The Dart ran to 70 inches wide, with a 39 foot turning circle and a hefty 2,840 - 3,100 pounds of weight. As with all Chrysler Corp vehicles of the time, it had a torsion bar front suspension and leaf-spring rear suspension with a solid axle.
Suspension
Torsion bars and balljoints in front; 2.5" outboard-mounted
asymmetrical leaf springs, rear; Oriflow shocks
Rear axle
Hotchkiss drive, hypoid rear axle; ratios 2.76, 2.93, 3.23, 3.55, 3.91 available
Fluids
18 gallons of fuel, four quarts of oil
Electrical
12 volt, 48 amp-hour battery base (38 amp-hour on 170), alternator standard
Drum brakes
9" diameter with 153.5 square inches of total lining (slant sixes)
10" diameter with 156.2 square inches of total lining (V8s)
Disc brakes
Front only; 102.3 square inches lining area. Rear is 10" diameter drum.
1967 Plymouth Valiant specifications
5 year, 50,000 mile warranty in place.
Engine size
170 slant six
225 slant six
273 V8 (2-barrel)
273 V8 (4-barrel)
Manual Transmissions
3 speeds
3 or 4 speeds
4 speeds
Horsepower (gross)
114 @ 4,400
145 @ 4,000
180 @ 4,200
235 @ 5,200
Torque
155 @ 2,400
215 @ 2,400
260 @ 1,600
260 @ 4,000
Bore and Stroke
3.4 x 3.125
3.4 x 4.125
3.63 x 3.31
3.63 x 3.31
Compression Ratio :1
8.5
8.4
8.8
10.5
Standard Tire/Wheel
6.5 x 13 (wheel 4.5)
7 x 13 (wheel 4.5)
Other specs:
| | | | | |
| --- | --- | --- | --- | --- |
| Largest tire/wheel | 7 x 13 (wheel 4.5) | | Track (front/rear) | 57.4/55.6 |
| Wheelbase | 108 | | Headroom (f/r) | 38.4/37.3 |
| Length | 188.4 | | Legroom (f/r) | 40.8/35.4 |
| Width | 71.1 | | Shoulder room | 55.7 |
| Height | 54 | | Seat height | 8.9 / 11.1 |
Also see the Australian Valiants page for information on the hot new Valiant VC (AP7).

Valiant Search
Cars
Sections
Regions
Technical
Performance