Barracuda and Valiant Promotions ("Promos") and Models

There were Valiant promos annually from 1960 through 1964. Then there were Barracuda promos for 1965, 1966, and maybe 1967. I'm not quite sure of the later. There were also Valiant promos from 1974 and 1975. I think the Volare came out in 1976 and that was the Plymouth promo for three years. There was a kit of a 1980 which could donate a grill to an earlier promo to make a 'fake' 1980 promo.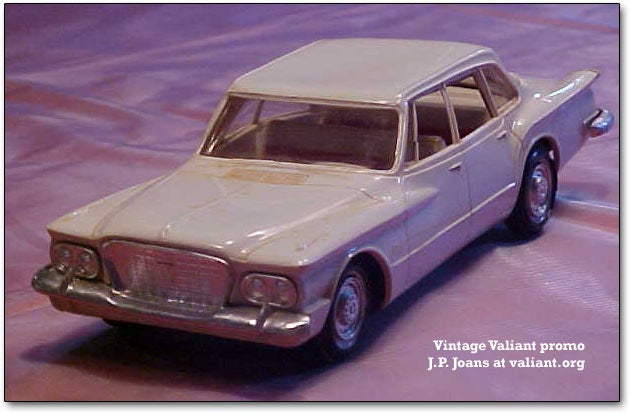 One of the first plastic promos ever was a 1949 Plymouth. It was made by Aluminum Model Toys which just used the initials AMT after aluminum was no longer the chief material. The 1949 Plymouth has a pressed metal grill with no detail that only reminds a person of a real grill. In 1950 the grill was very accurate.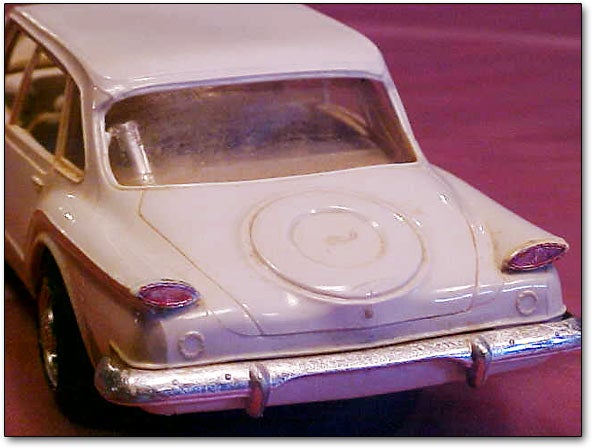 In 1962 there were two 1/25 Valiant models. One was the promo and kit from AMT and the other was a kit by Revell. The Revell kit is not too easy to come by as is also true of the 62 Valiant promo.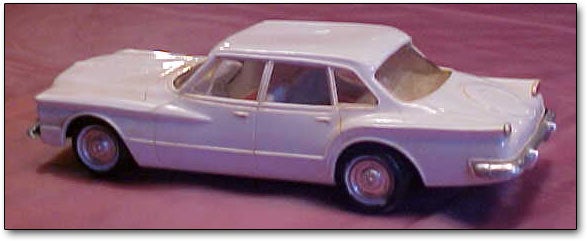 The word promo gets used loosely. In strictest terms it mean a toy car available only at the dealer. In almost every year that there was a promo made there was also a 'toy' made to sell in hobby shops and toy stores. The usually had a different base and almost always contained a friction motor. Sometimes the promo—which almost never had a friction motor—is called a coaster. In addition to these versions of the car there was usually an annual kit for sale too. I'm not sure there was an annual kit of the 1960 Valiant.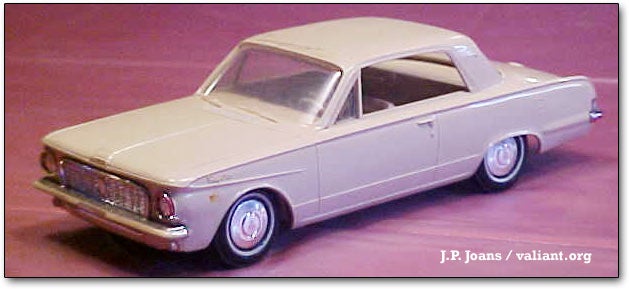 There was also a 1/87 promo from Revell in 1961 of a Valiant station wagon. They made the whole Chrysler Corp line except for DeSoto in 1961. The boxes had a lot of Chrysler Corporation graphics and were authorized by Chrysler. I don't know of them being available through dealers. They were for sale in hobby shops. These are very rare but not too valuable.
AMT made Valiant promos and kits from 1960 to around 1966. The 1960 was a V-200 4-door sedan, the 1961 was a V-200 2drHT, and the following years were Signet two-door hardtops. I don't remember convertible promos being available but could be wrong, as AMT did offer a 1965 Coronet convertible promo but didn't offer the same car in a kit.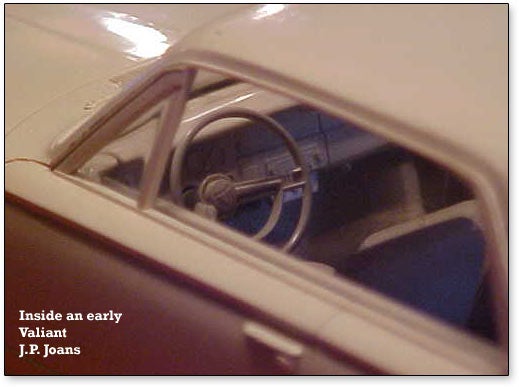 It was interesting that AMT had the Valiant promo contract to begin with, as Chrysler usually used Jo-Han for its promos in the early 1960s. AMT did, however, do Imperial promos as well as Valiants, at least until 1967.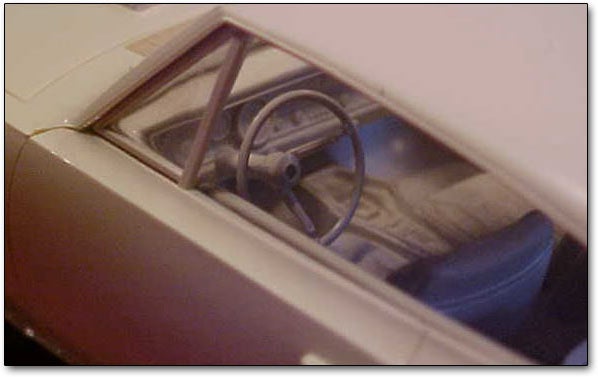 AMT also did Barracuda promos and kits from 1964-66, after which MPC got the Barracuda promo contract. MPC and Jo-Han appear to have done E-body Barracudas at the same time, but that was years later. It was actually not unusual for one promo manufacturer to make promos or kits that were then sold under another manufacturer's name. I'm told the AMT 1965 Coronets were actually done by MPC but sold under the AMT name. This theory is in my opinion supported by the chassis of the MPC '68 Charger, which appears identical to that of the AMT '65 Coronet; it also makes sense as MPC was doing '65 Dodge C-body promos, their Monaco two door hardtop and Custom 880 convertible also being MPC's first 1/25 kits. There were even years where all three major manufacturers (AMT, Jo-Han, and MPC) were doing one MoPar or another at the same time...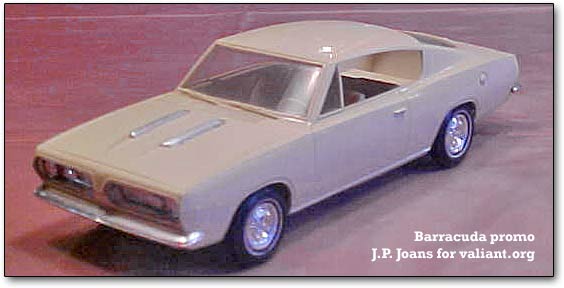 AMT's Barracuda kits differ from their '63-'65 Signet kits in that the Barracudas were 3-in-1 kits (custom and racing alternate versions) while the Valiants were part of AMT's "Craftsman Series", which were snap-together models buildable out of the box as stock only. The "Craftsman Series" also had no engine, unlike the 3-in-1 kits, but a skilled modeler could use a Barracuda chassis and cut the Valiant hood open to create a Valiant with an engine.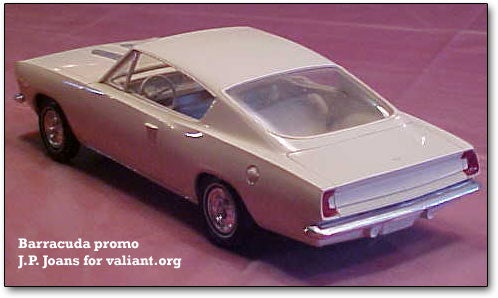 I'm not completely sure the 1966 Signet was available as a kit, but I'm quite sure there were promos. Also not completely sure on AMT doing a '62 Signet although I think they did. '62 was the year Revell did a series of MoPar models including a Valiant 4-door sedan, complete with Slant Six. Revell also did a '62 Lancer, I believe a GT two door hardtop but am not 100% sure. This was the only Dodge A-body I know of in 1/25th scale until Dart GT/GTS models came out in recent years. (Actually, AMT offered a '70 Swinger kit in the early '70s, but this was only buildable out of the box as a race car.)
MPC also had a Dart Sport model from the mid-'70s... ...I always forget this one since it replaced MPC's Duster in the lineup, and appeared to have been made from the Duster mold modified to Dart Sport specs...
News from Peter Morthen, R&S Valiant Club
A short while ago a die cast model company here made 1/43 versions of the Australian R Series Valiants in green, white and black. I tried to notify as many people as I could, but still didn't reach as many owners as I hoped. Perhaps you would be interested in giving them a plug. They only have white ones left now, because the cars have been the biggest sellers they have ever made. The compay is called TRAX, and their web site is at http://www.topgear.com.au
They specialise in mail order and I already know a few went to America. The quality is exceptional. It is not to scale though......at least I don't think it is.
I know there would be many owners of 1960-62 Valiants that would be interested but wouldn't hear about it. The Australian S Series is also going to be released soon.
Building your own models (Sandy Colter)
Most paint has too strong of a thinner in it and attacks the plastic. I used to use a plasticote scratch filling primer. This stuff was the ONLY thing that did not destroy the plastic. Once the body is primed you can use regular sray can paint over it. Be very careful as if you build up the top coat too heavily it will eat through the primer with bad results.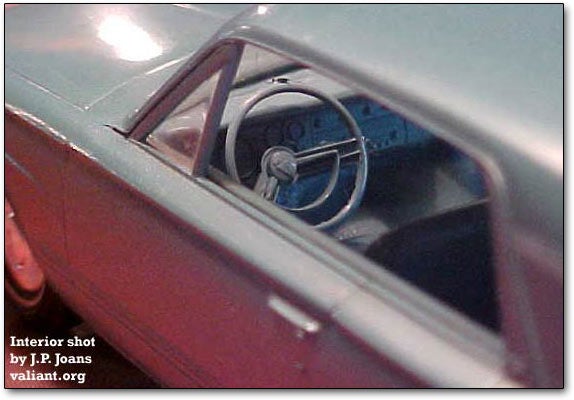 I use spay cans and have done so for many years. A better approach for a newbie is to buy a small air brush and spray the paint from a spay can into the airbrush jar. This way you can adjust the pressure and put the the paint on lightly. I have a friend who builds contest winning stuff, he uses lacquer over plastic with no primer. His paint is second to none!
Test out the paint on some scrap plastic from the kit you are working on. Some plastic is more sensitive to paint than others. Monogram metallic is the worst by far! Metallic blue 70 GTX, met. red 70 T/A Challenger, met blue 69 Super Bee, etc. White plastic that is milky and soft is the best (older MPC). The more brittle the plastic the worse the paint will react to it. Clear is the most sensitive to paint ( you usually don't paint clear) and the most brittle. Try some paint on clear to see what happens.
I have a huge collection of model kits but no time, someday I hope to get back at it. Until then I buy kits still and fill the urge to build with diecast!
Also see Allpar's model pages!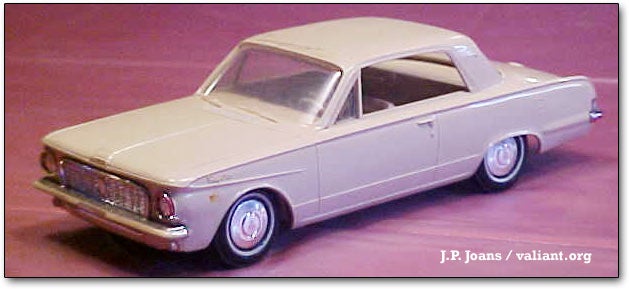 Valiant Search
Cars
Sections
Regions
Technical
Performance