Australian Hemi Six Engines: 215, 245, 265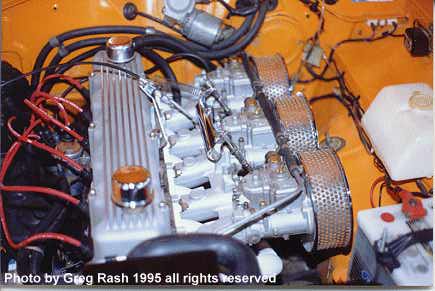 Work on the powerful 245 "Hemi Six" started in 1966, with surprisingly good results. The engine, produced in 215, 245, and 265 cubic inch versions, took amazingly well to increased carburetion. Equipped with that six, the 1970 Valiant VG could run the quarter mile in 16.4 seconds; the Pacer, with a four-barrel carb, could do it in under 16.
Engineer Pete Hagenbuch wrote:
"It was designed and developed in Highland Park. It was to be an ultra light engine. You have to understand that this was something that Chrysler had never done before. They were pushing the boundaries, knowing that it would have to change in development, which is a hell of a nice way to develop an engine. We had always before designed bulletproof engines and nobody ever knew how much lighter they could have been. So this one it was done the other way. Or as Larry Brown, ex-Pistons coach, would say, "The right way."

The oil pan fell off of the first performance engine. Not literally, but there were only two screws left holding it, the block was so floppy. And there was a long engine with a big bore and so the camshaft was long and the distributor was toward the rear of the engine and the torsional vibrations were fed into the camshaft and into the distributor. That was terrible, they had to work and work and work on the cam and the cam drive, I don't think they moved the distributor because that was changing the casting drastically. But the cylinder walls were thin, everything was thin. There was a lot of beefing up in the pan rail and the main bearing bulkheads. This is not my field of expertise, but I think they beefed up the crankshaft too. [But it was] a hell of a good engine, it really was.

We did the 245, they [the Australian engineers] did the 265 against our advice, turned out it was a very good engine. We thought it was a little bit too much for the structure.

[At first,] They couldn't get an engine to run lab endurance for more than about 20 hours or so without dropping a valve or putting a hole in a piston. Well I suspected right away in the States what it was, and when I got there, sure as hell, they were running wide open throttle lab endurance (their schedule was probably different from ours, but ours consisted of 10 hours each, and I may forget one, but the first 10 hours were 800 wide open – can you believe that? - then 1600 wide open, then 2400, 3200, the fifth 10 hour cycle was 3600, and the last was 9 hours at 4000 and the last hour at 4400, all wide open throttle. And their engines were failing in the second 10 hours due to pre-ignition or valve overheating.

And you know what I found when I got there? They were using car spark plugs for Heaven's sake, hot spark plugs, the ones that keep from fouling while your wife tootles around at 30mph. Wide open throttle endurance at Chrysler has always been run with just about the coldest spark plugs that you could find or that Champion would make for you. We weren't testing spark plugs, we were testing the engine structure. ... Before I had been there a week they had completed a 60 hour endurance schedule [with the cold plugs] and the engine looked beautiful.

[It didn't get used anywhere else because] it was too big for Europe, I think, and we didn't have any interest in it. With cheap gasoline, V-8s beat the hell out of sixes.
Chrysler chief engine designer Willem Weertman wrote:
We were the lead on it. That was by arrangement and agreement with the Australian engineering staff and the company. The installation requirements were different and both the Australians and ourselves liked the upright arrangement for the engine for its simplicity and being maybe more acceptable in their competitive field. We had provision for a larger size of the same engine; it was a raised deck of the same engine, as a possible truck engine. We liked that idea of this being a good sized truck engine of about 300 cubic inches. There the factors and the requirements for the use of the engine that said we could use an upright engine so that was why we went for it.

Then the final engineering responsibility was transferred to Australia. They worked very hard at high performance versions of the engine that we did some consulting on but it was really their responsibility. I think they did a pretty good job on those versions.

[It was never developed into a truck engine because] It would have cost quite a bit of money to make a truck version of the engine including the engineering and the development and production costs. It was decided that the anticipated volume would not pay for the cost of it so it never got any further than design studies. We never built an experimental engine.

Even though it was all cast iron we wanted to make it a lightweight engine.... Our massive effort at reducing engine weight was really on the LA V-8 engine. I think those lessons carried over then into the Australian engine that was designed and into the 2.2. We sort of went through the lightening process once and then we applied those lessons to all of the future engines which would have included the Australian engine and the 2.2
The Hemi Six line included engines with 215, 245, and 265 cubic inches of displacement. All were in-line sixes, with pushrod-activated overhead valves, combined intake/exhaust manifolds on the left side of the engines, and hydraulic valve lifters to cut maintenance needs; Carter carburetors were generally used on the standard engines, with three side-draft Webers on the highest performance versions. At introduction, single-barrel carburetors were used even on the 265, though a higher-output 265 was sold with a dual-barrel Carter carburetor and twin-outlet exhaust manifold. The Six Packs used Weber 45 DCOE dual-throat carburetors.
Even the smallest engine, the 215, equipped with a single-barrel carburetor, produced more power than the biggest American slant six — and it weighed less.
The 265, a bored out 245, used the same pistons as the 318 to save money; the 215 was meant for economy. The VH Pacer had a higher performance 265, and it set a record for being the fastest mass-produced four-door sedan with a six cylinder engine produced in Australia (the record was indisputed until 1988). The key to its success, other than a well-designed and well-made engine, was the addition of triple Weber side-draft carburetors, tuned by Weber and Chrysler engineers in Italy.
Size
Code
Carb Setup
Horsepower


(

gross

)

Torque
(lb-ft)
C/R
Quarter Mile

0-60 mph
215
1-barrel
140 @ 4,400
200 lb-ft @ 1,800
8.0:1
245
1-barrel
165 @ 4,400
235 @ 1,800
9.5:1
265
1-barrel
203 @ 4,800
262 @ 2,000
9.5:1
265
HP
2-barrel
218 @ 4,800
273 @ 3,000
9.5:1
15.7 seconds
265
E37/E48
Six Pack
248 @ 4,800
305 @ 3,400
9.7:1
265
E38
Six Pack
280 @ 5,000
310 @ 3,700
10.0:1
14.8 seconds
6.3 sec
265
E49
Six Pack
[email protected],600
320 @ 4,100
10.0:1
14.4 seconds
6.1 sec
245
Low C.
Carter 2V
n/a
n/a
(1978)
245
High C.
Carter 2V
111 @ 4,400 net
190 lb-ft @ 1,800
(1978)
265
n/a
Carter 2V
146 @ 4,800 net
212 @ 3,000 net
17.5; 30 mpg
9.6
The 1971 Charger was based on the Valiant VH, but was a short-wheelbase 2-door version. It could be equipped with a slant six, small V-8, or the "ordinary" 265 Hemi. The "ordinary" version had 203 hp and 262 lb-ft of torque at 2,000 rpm, making it competitive with V-8s. The high-performance version was reserved for the Pacer - for now.
The Charger R/T had a 3.23 differential rather than the 2.92 standard in other Chargers; six-inch rims; a front anti-roll bar; a tach; and an oil pressure gauge. Stock, it could run a 15.7 second quarter mile. Optional was the "six-pack" package, using three two-barrel Webers to put the 265 up to 248 hp (30 hp more than the standard R/T 265). The final option was the E38 engine, with a higher compression ratio, different gear ratios, and 280 hp (gross) - about 80 hp more than the standard 265! This brought the quarter mile down to 14.8 seconds, with a single gear change. Zero to sixty (mph; about 100 km/h) was 6.3 seconds. Performance was about the same as Ford's 351 V-8 Falcon GTHO. Handling was "exceptional," possibly due to the light engine. Racer Leo Geoghegan noted that the Charger E49 R/T handled well on the track, straight off the assembly line, while most cars needed a great deal of tuning.

The 1972 E49 Charger was another significant move forward, and not just because it was the first to get a four-speed manual gearbox (from Borg-Warner). The E49 pushed the 265 Hemi engine to a full 302 hp, and had the quickest acceleration of any Australian production car - 14.4 seconds in the quarter mile, six seconds and change 0-60, respectable even when compared to American big-blocks or 1990s sport compacts.
In 1978, the CM series Valiant GLX had a substantially upgraded suspension, refered to as Radial Tuned Suspension. The GLX was also fitted with a 4 speed floor shift Borg Warner gearbox, and the Electronic Lean Burn (ELB) 4.3 Litre Hemi 6 cylinder; this combination was in the right hands able to achieve fuel economy of over 30 miles per gallon (Imperial).
Six Pack details
All together, four engines were made with Six Packs, all displacing 265 cubic inches, with horsepower ranging from 248 (gross) to 302 (gross) and torque ranging from 305 to 320 lb-ft; all were painted gray and blue. The first ones, the E37 and E48, had specially chosen blocks (those that best matched the specifications); they differed from the ordinary 265 by having a high-mass vibration damper to deal with the torsional vibrations in the crankshaft, tin aluminum main bearings with full circle oil grooves, a bushing added to the small end of the connecting rods, and a slightly different piston design (with a small crown to make the compression ratio 9.7:1, and circlip grooves for fully floating gudgeon pins). The E38, as one would expect, went further; blocks were carefully selected and had deeper main bearing caps and longer bolts, with hardened washers. The crank had high hardness, shot-peened in some areas. Connecting rods were also shot-peened for fatigue resistance; and the pistons were altered for a 10.0:1 compression ratio.
The famous E49 was generally similar in specification to the E38, but had different piston to bore specs and piston clearances; intermediate piston rings were fitted, and a molybdenum-filled top was used.
Nearly all the cars built with these engines remained in Australia, but 51 were exported to New Zealand, 9 to Japan, two to the UK (including the only automatic R/T ever made), and six to other Asian countries.
Valiant Search
Cars
Sections
Regions
Technical
Performance