Plymouth Valiant Based Cars (A bodies): Lancer, Barracuda, and many more
Barracuda, Twister, Dodge Dart, Demon, Swinger, Lancer, Valiant Charger, Pacer, Ute
Chrysler's Valiant was introduced in 1959 as a 1960 car, creating its own brand for one brief year. Shortly thereafter, the Valiant became a Plymouth - after 190,000 Valiant cars were sold (by comparison, Plymouth itself sold only about 250,000 cars) - and a more plush Dodge Lancer version was brought out. Before long (1963), Chrysler dropped the Lancer name, and applied the Dodge Dart name (taken from a 1960 B-body) to the new Dodge compact car.

The Valiant and Dart station wagons were dropped after 1966, and the Valiant convertible became the Barracuda convertible. Lancer wagons were available in 1961 and 62; Valiant wagons from 1960 to 1966; Dart wagons from 1963-66; Valiant convertibles from 1963-66; and Dart convertibles from 1963 to 1969.

By 1963, an Australian version was being made, complete with right-hand drive - and that spawned a variety of new cars such as the Valiant Charger, Pacer, and Ute. In South America, there were even more Plymouth Valiant-based cars.
Canadian Valiants started out as Valiants. Then, for reasons explained in our Canadian Valiant page, they became Darts with Valiant grilles and nameplates.
The Plymouth Duster, Dodge Demon, Plymouth Duster Twister, and Dodge Dart Sport (in its later years) were Plymouth Valiants with rounded rears and in some cases extended wheelbases, but some were available with unique packages (340 or 360 engines for power, gas-saving 38-mpg Feather Duster, etc.). Early versions of the Plymouth Barracuda were also A-bodies; see Allpar's Barracuda page
The incredibly popular Plymouth Duster is the only Valiant-based car that outsold its parent, though its companion, the Dodge Demon, sank quickly, and its predecessor, the Plymouth Barracuda, wasn't a sales barnstormer.
Valiants of Other Nations: Charger, Pacer, GTX, and more

In Australia, the Valiant spawned the Pacer, Charger, Ute, Panel Van, and Drifter. Australian Valiants had Australia-only 215, 245, and 265 inline six Hemis; the 265 Charger E49 could run a 14.4 second quarter mile. The Valiant line in Australia included both the American-style A-bodies and domestically-designed varieties, such as the Valiant Charger.
New Zealand had a unique, higher-power version of the 265, used in the Australian Valiant Charger cars.
South America saw a large variety of rebadged and reshaped Valiant cars, including the Dodge Charger and Dodge GTX.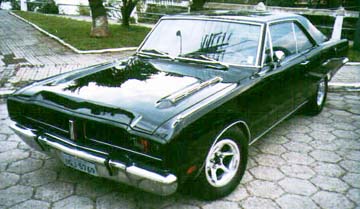 In Europe and South America, the Dodge 3700GT helped to bring more Chrysler sales using the Valiant as the basis for a car with more upscale fittings.
North American versions
The North American Valiant-based cars were:
| | | |
| --- | --- | --- |
| Year | Car | Wheelbase |
| 1960-62 | Lancer and Valiant | 106.5" |
| 1963-66 | Valiant, Barracuda, Dart Wagon | 106" (except Canada) |
| 1963-76 | Dart (except wagon) | 111" |
| 1974-76 | Valiant | 111" |
| 1967-73 | Valiant | 108" |
| 1967-69 | Barracuda | 108" |
| 1970-76 | Duster | 108" |
| 1971-72 | Demon | 108" |
| 1973-76 | Dart Sport | 108" |

Why they are called A-bodies
Four major car platforms used by Chrysler, Dodge, and Plymouth for some years:
A-Body: the new compact cars; they would spawn the F-body (e.g. Volare) and the essentially similar J and M.
B-Body: (e.g. Belvedere, Polara) mid-size
C-Body: (e.g. Newport) full size
D-Body: (1957-73 Imperial only) large
E-Body: (1970-74 Dodge Challenger/Plymouth Barracuda only), downsized B body with some A-body elements
Dodge Lancer
The Lancer was a Dodge version of the Valiant, created due to the incredible runaway popularity of the new small car. Allpar.com did a comparison of the 1961 Dodge Lancer and the Plymouth/Chrysler/Dodge Neon. The Lancer was replaced by the second-generation Dodge Dart.
The Dodge Lancer name came back decades later for a version of the Chrysler Lebaron GTS (this Dodge Lancer looked exactly like a Plymouth Sundance). Now, Mitsubishi is using the Lancer name outside the US.
Plymouth Scamp and Dodge Swinger

The Plymouth Scamp and Dodge Swinger were two-door hardtop versions of the basic Plymouth Valiant, and retained its angular styling. The far more successful Plymouth Duster, and its derivative (Dodge Demon and Dart Sport), used a Valiant front with a completely new rounded rear that provided better aerodynamics and more trunk space. The Dodge Swinger came first; when Dodge appropriated the successful Plymouth Duster and called it the Dodge Demon, Plymouth was allowed to get the far less popular Swinger and call it the Plymouth Scamp.
Dominick's Scamp
Pete Dickerson's 1974 Scamp 318
Matthew's [Mattguy's] Scamp: "It's a 1974 with a 318 in it. 136,000 miles. I've slowly been building it back up to nice condition over the past 5 years. It's my everyday driver. Last fall/summer I removed all the old paint and re-worked the rear pas. side quarter panel esp. (I smashed it in the winter 3 years ago). The interior is next with new carpet and ceiling vinyl. Other than that, it's a fine car. I'd rather drive it than any new vehicle (other than a motorcycle) any day of the week. Aside from on-going engine work that I'm always tinkering with, the Vally is pretty much solid and just as smooth as any other low-$$$ car (from any year) that I've ever been in. Besides, the vally's unique and nostalgic on today's road and that makes 'em lots of fun to drive around in."
Valiant Acapulco
The Valiant Acapulco was essentially a 1963-67 Signet with an upgraded interior, made and sold in Mexico; it featured an optional Hurst four-on-the-floor setup.
Dodge Dart Hang Ten
Stan wrote that his 1974 Dart Hang Ten has "Hang Ten" decals, a fold-down rear seat (presumably so surfboards could go through the trunk to the rear seat, a 225 slant six, and a center-console-controlled automatic transmission. [email protected] wrote that the Hang-Ten was a special appearance/feature package on the Dart Sport for 74-75. They were Spinnaker white (W1) with the special blue/orange striping and decals. The interior had the white/orange accents. The standard engine was either the 225 or the 318. The 360 was available. The option code was A63.
Valiant Super Bee
Chris Krisocki (not the New Jerseyan) spotted a Valiant Super Bee in Mexico, and we let it ride because most unconfirmed sightings turn out to be hoaxes - like the guy who put a "Turbo" sticker onto his 1976 Nova. Then we got a note from Mark Staroselsky, who said he has a 1971 Valiant Super Bee, which he thinks was a Mexican car. It was like the 1972 Scamp, with a 1974 style dashboard and Super Bee logos and stripes. His is red with a white interior, bucket seats, and four speed manual transmission hooked up to a 318.
Dodge 3700 GT, Coronado, Polara, Charger
Special A-body cars were made for Europe and South America; these were very similar to the US cars in every way except trim and sheet metal. The Charger, in particular, was an imaginative variation on the US Valiant.
Taxi use in North America
The prototypical taxi for many years would be the Dodge Diplomat and Plymouth Gran Fury, both essentially fourth-generation Valiants (though officially the A-bodies ended when the F-bodies began, and likewise the M replaced the F - the similarities are fairly strong from F to M and not inconsiderable from A to F), but there were very few Valiant/Dart taxis.
Taxi-historian Mike Sealey wrote: "First-generation Valiants and Lancers were tried as cabs in the US when new, only failing as a result of legroom. From 1962 on, Slant Six B-bodies had all the virtues at little more expense and almost no more operating costs, and with ample legroom. Even the longer wheelbase 1963 Dart (and Canadian Valiant) were not enough to get cab companies to take a second look at A-bodies... it took a series of smog laws, accompanied by diminishing horsepower ratings and, finally, the 1973 oil embargo, to accomplish that. Chrysler appears to have brought back the A-body taxi package in 1974, the same time they officially released a police package in the A-body range."
Valiant Search
Cars
Sections
Regions
Technical
Performance
Thanks to Dan Stern for his technical assistance and corrections.