The 1964 Plymouth Valiants
Plymouth had entered the world of manual four-speed transmissions in 1963 with a Borg-Warner unit. This year they had their own Chrysler-built 4-speed, topped with a Hurst shifter. The other transmission option remained the unbeatable Torqueflite three-speed automatic, in its last year of pushbutton control.

The 5.39:1 breakway ratio (compared with 5.07:1 in Rambler's Flash-a-Matic) helped the Plymouth get off to a speedy start. Meanwhile, safety-rim wheels helped assure safety in case of blowouts, and front seats could be adjusted six ways (by the dealer). Chrysler also boasted of its 5/50 warranty on powertrain; Ramblers were warranted bumper to bumper for 2/24.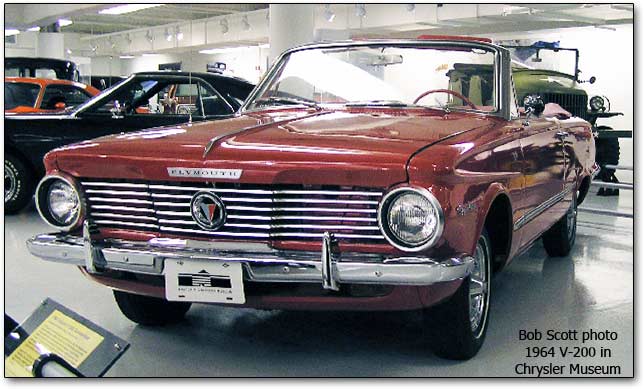 The following is based on an article by Jack Poehler, Plymouth Owners Club technical advisor.
Despite flat industry sales, Chrysler gained 17% over 1963, with Plymouth up from 8th place in 1962 to 5th in 1963, landing in fourth place in 1964, trailing only Chevrolet, Ford, and Pontiac. Valiant sales were over 251,000, the highest in all its years, partly because of the new (1965 model-year) Barracuda model. Styling was similar to 1963, though a horizontal grille bar with a Valiant medallian in the center was added, and taillights were made vertical in the fenders instead of horizontal.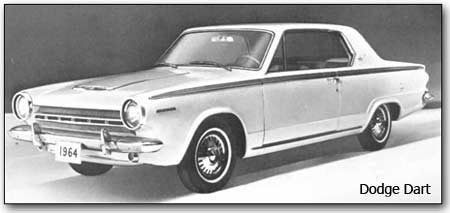 The V100 Valiant gained a standard heater and defroster, vinyl trim, turn signals, courtesy lights, front door arm rests, and tubeless tires. The V200 also had a V-shaped Valiant emblem on the trunk lid, V200 nameplates, bright metal roof gutte rails, and lower bodyside mouldings, as well as full wheel covers, special upholstery, better carpeting, front and rear armrests, and a cigarette lighter. The Signet added front bucket seats, foam rubber front seat cushions, and styled wheel covers, along with a lower boydside moulding between the wheelwells and on the rear quarter, and Signet medallions. Signets with the 273 engine had V8 emblems on the front fenders, but all Valiants have it. Across the line, the 170 slant six was standard, the 225 a low cost option (except on Barracuda, where the 225 was standard). Power brakes and air conditioning were available but not popular.
| | |
| --- | --- |
| | |
Adding to the sporty image of the Valiant was a four speed floor-shift manual transmission designed by Chrysler for big block V8s, with gear ratios more suited to the slant six. A Sure-Grip rear axle could also be ordered. Most of the floor shifters were ordered with slant sixes rather than the 273.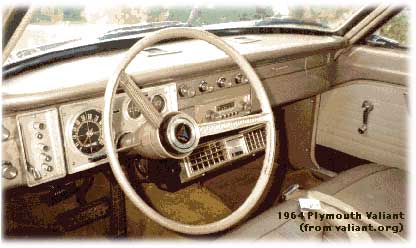 The new 273 LA V8 was actually designed for the Valiant, and went into production in December 196 with a two-barrel Carter carb and single exhaust. Its 180 horsepower helped keep the Valiant competitive against the Falcon, though the Falcon-based Mustang always far outsold the Valiant-based Barracuda (8:1 ratio), though apparently at the expense of the Falcon itself. Though the Barracuda's standard engine was the larger slant six, more than 90% were ordered with V8s compared with 16% of Valiants (mostly Signets).
Chrysler sent out the following record to its dealers:
In 1962, the Ford Fairlane arrived. It had no revolutionary new features and in size it was a throwback to the 1956 versions of the low priced cars.

This year, the three cars we called the BOP compacts [Buick-Oldsmobile-Pontiac] are no longer compact, like the Fairlane. They are sized about the same as the 1956 models and a new one has been added, the Chevrolet Chevelle.

And so the competitive picture seen by many a Plymouth Valiant salesman like Joe Gates here, is one which he viewed with alarm. This year he thought, "the big market for the intermediates is opening up and I'm not selling intermediates. I've got a very fine full-sized car and the very finest of the compact cars but nothing in between." But almost immediately Joe Gates, like many other Plymouth Valiant salesmen, did a double-take on his very fine full-sized Plymouth and very fine compact sized Valiant. It's true, thought Joe, that I'm not directly competitive but I'm still very competitive. And there is a big opportunity here that I'm not going to miss. But, let's hear it from Joe.

Joe: Sure I was disturbed when the BOPs came out as intermediates and joined Fairlane and Rambler in that market segment, plus the new Chevelle. What's more, I noticed that there was plenty of advertising and promotion to get people into the showrooms to have a look at the intermediates. As a matter of fact, I decided to have a look myself. I sort of had an idea maybe all this market activity might mean opportunity for me. I stopped in several showrooms and I noticed that the so-called intermediates came in strippo models and in loaded models just like other cars. Showroom traffic was good and maybe sales would be good but not everybody in those showrooms was buying intermediates. A lot of them were brought into the market by intermediate advertising and promotion. And I figured a great many of them would look at other cars too before they made up their minds.

The question in my mind was, "What do I tell a Plymouth or Valiant prospect who is also thinking about an intermediate?" It seemed to me a preliminary answer to that one would be qualifying as to what he really likes, big car benefits or compact car benefits. And either an intermediate, a compact or a full-sized car what does he like? Low initial cost? Lowest initial cost plus some luxury features? Operating economy? Exceptional maneuverability, easy parking? It seemed to me that Valiant V-100, V-200 and Signet 200 provide quite a number of good answers for the prospect who wants any or all of these things. Or suppose he's interested in low initial cost, good operating economy, power and performance, big interior dimensions, in this case Plymouth Savoy and Belvedere offer him all these benefits and more.

But take another case:
Suppose price and operating economy are not all important to a prospect and what he really wants are luxury features. Maybe sports car features and high performance, best possible handling characteristics. Well, a prospect like this should be invited to get behind the wheel of a Fury or Sport Fury with power steering and take it out on the highway, along with me of course, or you. What I'm getting at is that many people who are thinking about the "in-betweens" we can sell up to full-sized Plymouth or down to a compact Valiant. If we first qualify them that is on the kind of benefits they really consider most important.

On a chart you can see that Valiant's shorter length can mean plenty and easier parking, better maneuverability, particularly as compared to the bops. On another chart you can see the difference in Plymouth's full-sized car overall length and the shorter length of the others, particularly as compared to Fairlane, Chevelle, and Rambler Classic.

Still another chart shows you the difference between Plymouth's full-sized car luggage capacity and those of the in-between cars. Valiant, incidentally, has more luggage capacity thanClassic and as much as Fairlane.

But dimensions and their benefits, compact or full-sized, are only part of what we have to sell to the prospect that thinks that perhaps an intermediate car has what he wants. We also have price to sell. I've checked out some manufacturer's suggested retail prices and it looks like we are really competitive. Without going into dollars and cents, Valiant V-100 is well under the corresponding in-between models. Valiant V-200 is under all except Ramble Classic. Signa 200, a luxury sport compact is priced under all the in-between cars when they are comparably equipped. Signa 200 is also priced under the special and F-85 strippo models. As for luxury and economy you can really do a selling job with Signa 200 to the guy who wants both plus the special characteristics of a compact car.

And if he wants a V-8 along with those special characteristics of a compact, we have it! The V-100 2-door is the lowest priced V-8 on the market. And the Signa 200 is the lowest priced bucket-seat V-8.

How about prices of the full-sized Plymouth and the intermediates? Well we are very competitive there too. For example, with our low-line Savoy you'll notice we're under the Special and F-85 and only a little over the others.

Our price position with Fury and Sport Fury is also very competitive with comparably equipped intermediates. And when you call attention to the very slight difference in monthly payments our prices look mighty attractive to the prospect you've qualified on really wanting full-sized car features with all the trimmings.

Let's check some full-sized car features every Plymouth offers the prospect who's got a notion to compromise but isn't quite sure yet. To start with, Plymouth has V-8 engine options that top anything the intermediates have in the way of horsepower and performance. You can imagine for instance taking a man who's interested in both price and power and talking to him about a Commando Four-26 or even a 383 in a Savoy. And still on the subject of performance, we have three-speed push button TorqueFlite automatic transmission with the highest break away ratio in the industry. All the intermediates except Ramble and Fairlane, have a two-speed automatic transmission. Fairlane offers their 3-speed only with the optional 289 cubic inch V-8.

Maribel Dietz and Jordan Kellman's 1964 Valiant wagon: This perfect car was purchased from the original owner and is driven every day.

We have Torsion-Aire suspension while all the others have either four coil springs or coils up front and leaves in back. And Plymouth's better ride is something your in-between car minded man should experience.

In the safety department, we have safety rimmed wheels, more brake-lining area and the only ones beside Plymouth with bonded-lining are Chevelle and Ramble Classic.

Plymouth has unitized construction; it's tougher and quieter riding than the body-on-frame construction used by the bops and the Chevelle. Valiant has practically all of these extra quality features too and they are a big part of your Valiant sales story.

Well, I think you'll agree that when you do some comparing you've got two great sales stories; one for the prospect who really wants what he can get in Valiant, the best all-around compact and one for the prospect who wants the full-sized benefits he can get in a get up and go Plymouth. The thing to do, as I look at it, is to qualify your prospect as to what he really wants in his next new car; the particular benefits of a compact or those of a full-sized car as compared to a compromise car.

Perhaps the biggest thing to remember is that we have on the shelf "price cars", "performance cars", "luxury cars", "economy cars" and just about any combination of those qualities that your prospect can think of.

For price and power there's a Savoy with 365 horsepower and four-speed stick shift.

For bucket seats, vinyl trim and other luxury features plus low initial cost and operating economy there is Signa 200.

It is simply up to us to find out just what combination he'll buy and then to show him that certain Plymouth or Valiant is the best answer to his needs. When you do that, you're tailoring the prospects desires to fit the very fine features and benefits we have in our automobiles. And that's what makes the salesman.
Valiant Search
Cars
Sections
Regions
Technical
Performance