Chrysler and Dodge of Argentina
ALSO SEE -> Brazil | Venezuala | Overview of Chrysler and Dodge in South America
Guillermo Guana wrote:
Chrysler USA started production here in 1962 in a joint venture with Fevre & Basset Ltd. The first car they produced here was the Valiant, until 1968 when they started producing the Dodge GTX.

My 1962 Valiant is a 4-door sedan, with a 2.789 cm of engine capacity [170 cid slant six], a fuel tank of 49 liters, 101 hp and can run as fast as 100 miles per hour.

I paid 1.500 dolars and now, almost restored, I can sell it at about 10.000 because it can be considered as a collector car.(I'm not thinking in selling it anyway, because I get a lot of pleasure driving it and everybody admires when they see it). Unfortunately it has almost 10.000 miles since I restored the engine. But if it ran 37 years, it can run another 100.000 miles, don't you think?

It looks almost the same than the Australian "S" series.

Dodge 1800 SE (left) and 1800 GL (above) -
courtesy Dave Desmond
John Predgen wrote:
Valiant III

Started in 1959 as "Fevre y Basset Ldta." Name changed to "Chrysler Fevre Argentina S.i.a.c." in 1965. Factory and offices in Buenos Aires.

First models produced were a series of Valiants, produced from 1962 to 1968.

The next model, the Polara-Coronado, had the same wheelbase and length as a Dodge Dart, but used entirely different sheet metal and interiors. Produced in two and four door models, including a GTX, from 1969 to 1979.

The last car, the 1500 series, was essentially an English Hillman Avenger in a four door and Rural (station wagon) models produced by Chrysler from 1971 to 1980, and continued by Volkswagen until 1989. Interesting features included rack and pinion steering, reclining bucket seats, and optional power brakes, oil cooler (on GT), and Borg-Warner atuoamtic transmission. Weight was 2029 pounds, engine was 1.5 liter (72 hp, 88 lb-ft, top speed 90 mph) or 1.8 liter (one-barrel: 92 hp, 116 lb-ft, 93 mph. two-barrel: 110 hp, 120 lb-ft, 104 mph).

The Polara was very attractive, but never a big seller, with 13,500 Dodge cars produced in 1975. The last year for the two-door GTX and R/T was 1978. The four-door models ended in 1979.
David Desmond provided the following two photos. He wrote that the light coloued sedan is the low line Valiant III, with 13" wheels; the dark one is the premium line Coronado with 14" wheels. The sport model GT looks similar to the Coronado with 'tiara roof', but has dual carbs (no, not the Carter 2-barrel!) outputting a claimed 180 hp; strangely, they don't use metric figures for this. Click here for more photos.
Valiant IV
Valiant Coronado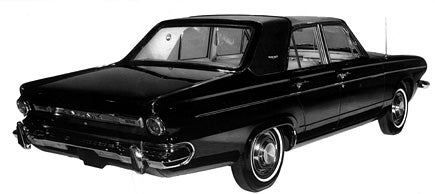 Martín Pauletich of La Plata, Argentina, wrote: I have a 1968 Valiant IV with four doors. The Valiant IV replaced the III in 1966. The basic characteristics are the same as all Valiants: - Starting instantly (in cold or heat). - Never it is broken - Never it leaves half of way - It must walk majestic.
In Argentina there were three Valiant IV models: - the standard 3-speed gearbox with a steering column-mounted control; the Coronado with a four-speed on the floor; and the Gran Touring with a four-speed, two-barrel carb, and vinyl roof. All were 4 doors with the Slant Six.
Valiant IV was replaced in 1968 by the Dodge Polara(standard, GT, GTX, Coronado).
Essential links
Valiant Search
Cars
Sections
Regions
Technical
Performance