American Plymouth Valiant (A-Body) photos
1962 Valiants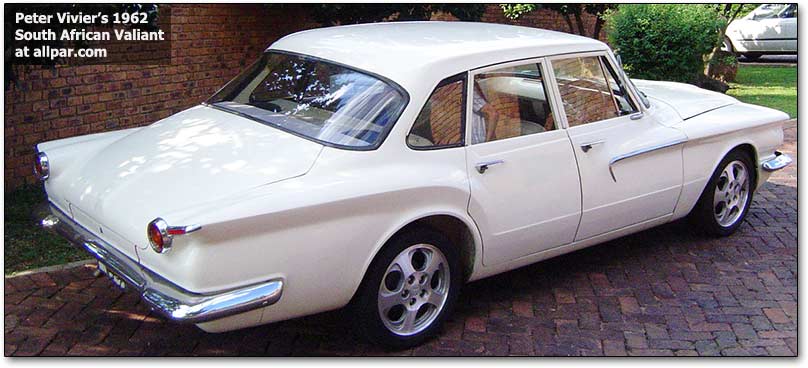 1963 Plymouth Valiant cars (Robert Simmons)
This Valiant was my first car back in 1977, when I was 16 years old. I bought it from an uncle for $75. It was mocked all through high school, and was dubbed the "class wreck." I vowed someday I would restore the car and get the last laugh. I had it ever since, though I wrecked it 12 years ago, and it's been sitting in my garage till this summer.
I bought another 1963 parts car and began putting the two together. I just finished restoration 2 weeks ago, just in time for its first car show, the James Dean Rebel Run in Fairmount, Indiana this last weekend.
Attached is the (near) finished "Prince" Valiant, sitting in front of my old high school in New Castle, Indiana. Also attached is a clipping of the 1979 school paper.
I rode Prince in my high school's homecoming parade last week (26 years later) and everyone remembered. They could not believe it. I did get the last laugh!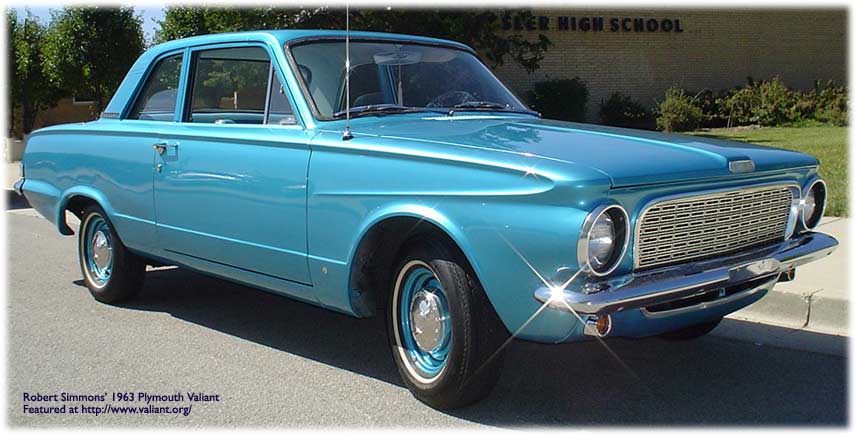 1964 Dodge Darts
We're not sure where the following Valiant photos came from - can you contact us if they're yours?
Maribel Dietz and Jordan Kellman's 1964 Valiant wagon: This perfect car was purchased from the original owner and was driven every day until sold in 2000.
Bill Watson sent this picture of Rob Rovatti's Canadian-built 1964 Valiant V-100. Fancy wheels are modifications . From the Mopar Unlimited car show in Vancouver. We suspect that's his 'Cuda too.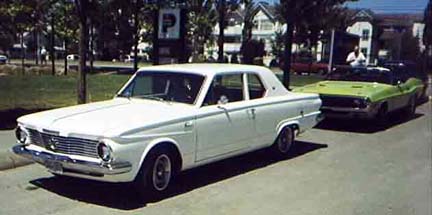 Valiant V-280 featured by Ghia in the 1964 Turin Auto Show (courtesy Steve Remington and Russ Shreve)
1965: Brian's Plymouth Valiant convertible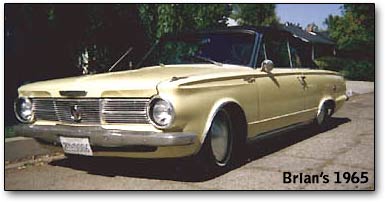 Marc Chiarello and his 225-powered automatic Valiant 100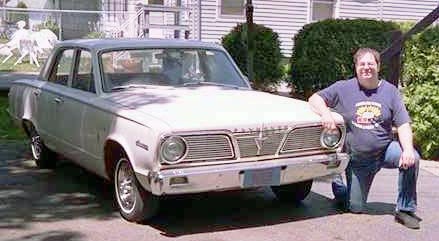 I consider myself extremely lucky to have found this car when I did in 1996. My friends and I were at the Iola Car Show walking through the swap when one of them saw a swap space with a board with pictures of the car on it, but no price. I decided to look at it to see what it was really like and how much the person wanted for it. Next weekend, we went up to Auburndale, near Marshfield, Wisconsin to see this car. I really wasn't planning on buying it, I had never had a project car before and didn't think I could afford to restore one. After looking at the perfectly straight and rust free body, I nervously asked what his price was. The owner, a Body and Fender guy, said he just wanted his money out of it for a paint job he did for the guy who left the car with as collateral. After running wacky prices like $2000 or $2500 around in my mind and looking forward to leaving without it, he said, "$400 is what I need to get outta it."
Well, we drove it all the way home, about 130 miles with bald bias ply tires, needing a tune-up and still got 24 MPG with it! It's already won two 2nd place awards at the local Chrysler car show, and I still don't have it painted yet!

1967: Matt Zimmerman's 1967 Valiant 200 (slant six/auto)
"It took me a while to get used to driving with power nothing but it now seems easy to me. It sure is fun having a car that seems like it has less electronics in it than my wristwatch! It sure is a good car and an easy one to repair though I did have trouble figuring out how to adjust the carb just precisely so that it would quit stalling on me!"
1969 Valiant car photos
The Valiant pictured below has an unusual clean, elegant appearance, thanks partly to the uncluttered grille and partly to the graceful shape. It is Mark DuVerger's daily driver, and a 1969 Valiant Signet. It has a 1968 170 slant 6 with automatic, 8 1/4" posi, 3:55 gears with SS springs to replace the original saggers, a 1986 Fifth Avenue leather interior, and M/T Indy sneakers on rallyes. The rest of the car is "pretty original."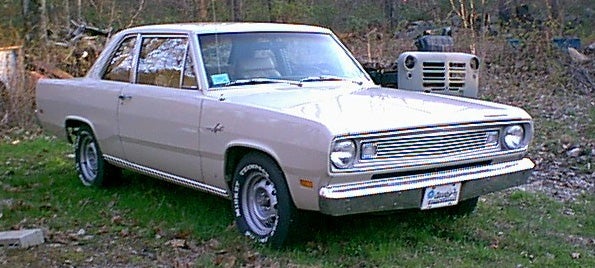 1974 Plymouth Valiant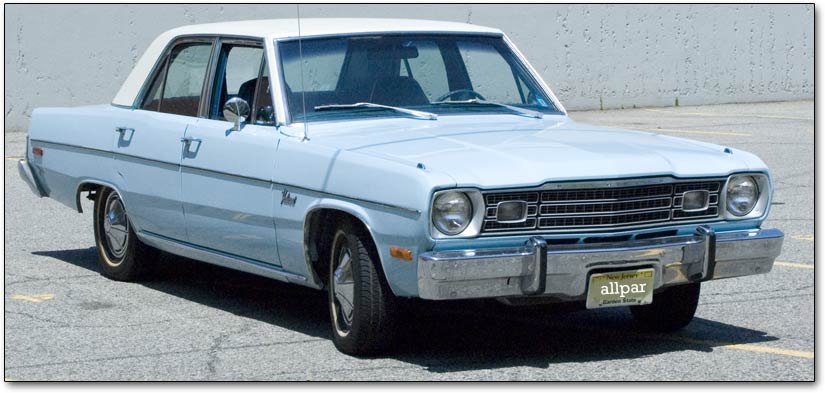 There are some very good 1974 Valiant photos in our Project Valiant page (go down to May 15!)
1976 Valiant, Scamp, Dart...
Left: Dave Mastro adds police gear to my own Valiant rendition
Also see the Valiant Chronology page!
Other photos are on other Valiant and A-Body pages at this site. If you see a photo of your car without credit to you, as owner or as photographer, please let me know immediately via this contact form on allpar.
Valiant Search
Cars
Sections
Regions
Technical
Performance