Valiant, Dart, Duster, Demon, (etc.) Links — and the Valiant movie
North American Plymouth Valiant-based cars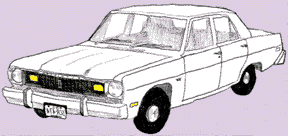 Note: For Barracuda pages, visit the Allpar link page. Last updated (dead links removed) December 2013. Generally we take out pages but don't add new ones.
A-Bodies: the Valiant and Friends
Valiant 63-66 Info Centre - good site, with details, good images, and several pre-1970s models; in Sweden.
Valiant, the movie with Jim Henson Productions and Sony Entertainment...web site dated 1997...this is an archive of it...information's at the bottom of this page.
Centura Central (see also our Centura page)
Valiant, the movie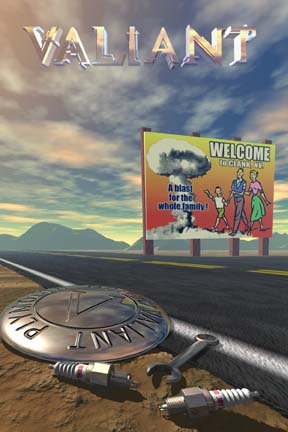 The press release follows, with the press release photo...
Aug. 9, 1997 - Jim Henson Pictures has optioned VALIANT, an original story by Jay Dubin and Paul Zaloom. They will both write the screenplay with Mr. Dubin set to direct and Mr. Zaloom to produce. The announcement was made by Stephanie Allain, president of production for Jim Henson Pictures.
VALIANT tells the story of a secret underground society of nuclear-powered cars that have been brought to life during the '50s and '60s by nuclear testing in the Nevada desert. Threatened by a gang of thieves, they enlist the help of a rebellious tomboy who teams up with the leader of a motorcycle gang to help save them. A love triangle develops between the couple and the '62 Plymouth Valiant as they fight to save the cars from destruction.
...Kristine Belson and Eoghan Mahony are the executives in charge of production for Jim Henson Pictures.
Mr. Dubin and Mr. Zaloom are best known for their work on the CBS Saturday morning series "Beakman's World" which uses humor to introduce children to the world of science. Together they have compleated more than 90 episodes of the Emmy award-winning series, which is helmed by Mr. Dubin and stars Mr. Zaloom as "Beakman." Mr. Dubin's other directing credits include the ABC series, "Dinosaurs," as well as numerous commercials and music videos. In addition to his work as a producer, Mr. Zaloom is recognized as a gifted performer and puppeteer and most recently staged a critically acclaimed one-man show at the Kennedy Center.
It's worth noting that another of their projects was "Lincoln 'The Man, The Car, The Tunnel'" — that said, the movie that eventually came out, from the same crew but not from Henson, was about a fowl in World War I.
Valiant Search
Cars
Sections
Regions
Technical
Performance