Ronnie Lyons' 1966 Plymouth Valiant
I live in Charlotte N.C. and am only 20 [this was written in the 1990s].... I was looking for an old car that I could fix up, and that I would be proud to drive, and about my only criteria was that I wanted something that had the potential to look kind of classy.... I like oldies, and I also like anything that's old, whether it be cars, houses, books, whatever... That nostalgic stuff just really intrigues me.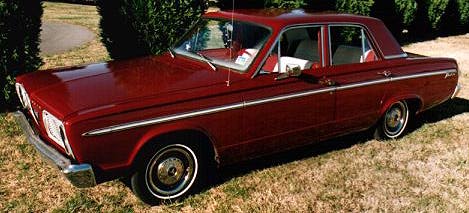 I was looking through the paper when I saw a picture of this 4-door Valiant... I'd never heard of one, but I thought the car's stylish lines and beautiful profile in the picture looked great! So I decided to give my dad a call about it... He told me that he had a Valiant when he was in his twenties, and that it had a slant six and was the best running car that he ever owned... he then proceeded to tell me all the stories about how no matter what you do to the engine, it won't stop running, and couldn't believe that I was actually considering buying one. So I decided to take a look at it that night when I got off of work....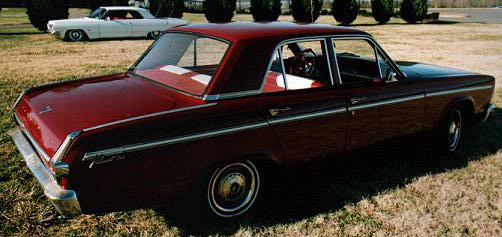 It was late March 1998, and I didn't get there till after dark, but the man agreed to hold the place open late for me. It was advertised in the paper for $600 dollars, and me and my brother were intent on talking the guy down. When we arrived, I noticed that the picture did the car a lot of justice... What you couldn't tell from the picture was that the car still had the original paint, and that the sun had oxidized almost all of it off of the top of the car.... The trunk wouldn't shut because someone had apparently walked around the car and beat it up with a Crowbar!!! There were round dents all over the hood, the trunk deck, the rear pillar of the car, one in the roof, about 4 in 1 door; all in all, it looked like they had hit it about 20 times!! The car had also been wrecked in the front, the grill was bent and broken, and the hood had been Bondo-ed by someone who really didn't know what they were doing.... The Bondo had fallen off in big chunks! The tires looked terrible, half of the left handed studs were missing (probably because someone didn't know they were left threaded and broke them), Both seats were ripped up, the paint in the interior was down to metal in some places because of the sun, there were wires hanging down from under the dash for the radio, the car had no rear speaker tray, and the headliner was half gone, with the rest hanging down in your face! However, when we sat down in the drivers seat, the car cranked first try! It sounded a little loud because of some exhaust leaks, but we knew we could fix that. My brother is a mechanic, and body work and engine work is absolutely no problem!
So we talked the guy down to $450, and drove it home.... The turn signal switch, gas gauge, temperature sensor and tail/brake lights didn't work, so I followed him in my other car, a piece of crap 91 Pontiac Sunbird convertible, all the way home.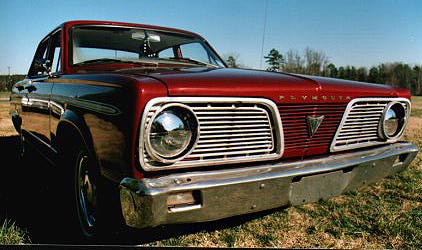 Since then, we have had exhaust work done, and I spray painted (yeah, that's right, spray painted) the interior myself!!! Anyone who wants to do it, I suggest that you just tape everything off really good, and cover everything with old sheets. Sand the old paint off with fine sandpaper so that you have a smooth surface, and then paint it on as even as you can get it. Make sure you paint a clear coat over the top of it, and it'll look great! I also removed the steering column, took it apart and painted it white. Now I have no experience at this, so anyone with half a mind can do it if you take your time. I bondo-ed the steering wheel up, and decided to paint it red with white lines instead of the solid red it was before. (the whole column was red originally, but I thought that it would look better white). I also repainted the door panels with vinyl die, bought a dash cover, and replaced the radio (the original was gone) with a CD player. I had a man redo the seats for me for $200, and he also threw in another headliner for another $200. The car originally was all red inside, with red seats and red door panels, but I thought it would look sportier with red and white. I couldn't find the original color interior paint, but exterior van paint for a dodge van from the 80s that I bought at Pep Boys called Carmine Red matched up perfectly!! I also found almost a perfect red vinyl die at Parts America, another automotive store around here that was recently bought out by Advanced Auto Parts. the hubcaps were original, and just needed shining up a bit.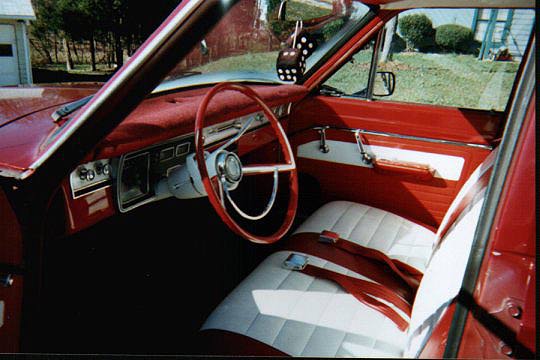 Me and my brother did all of the body work ourselves also, which is why it doesn't look quite perfect...We had to replace the hood and trunk, because they were badly beaten, and the front grill (the middle section ) is out of another Valiant also. We were lucky though, because unbelievably, the car had no rust, not even surface rust!! If you look close, you can still see ripples in the doors, and The front drivers fender used to have a 8 inch dent in it.... It looks pretty good though... We primed it ourselves with an air gun, and had Maco put a $400 dollar paint job on it. By the way, Maco kind of did a junky job, next time we're going with Peach! (it's cheaper, and higher quality)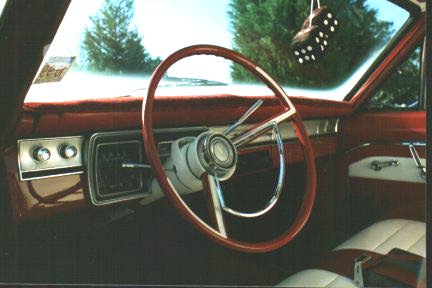 To date, we haven't had to do anything to the engine, and the odometer broke long ago!! I have no idea how many miles are on the car, but it had obviously been drove hard, as the suspension was pretty worn, and we replaced most of it....
Now, you might say that we've spent a fortune on a 4-door car that isn't worth much, but I say that my car is priceless!! Me and my brother did most of the work, and for parts, paint, and upholstery I've spent probably $1500, so I say it was worth the 2 grand it took to get it going...And it only took about 9 months on weekends so far! The car drives well, and I'm still not done! Right now, I'm replacing the weather stripping (only 10 dollars for 2 windows) and putting sound and temperature insulation inside the doors (which really is quieting down the ride)... I would suggest a Valiant to anyone who loves to drive a beautiful, dependable car.... I turn heads everywhere I go!
Thank you for your time, Ronnie Lyons
Valiant Search
Cars
Sections
Regions
Technical
Performance