The 1955 Chrysler Falcon Concept Car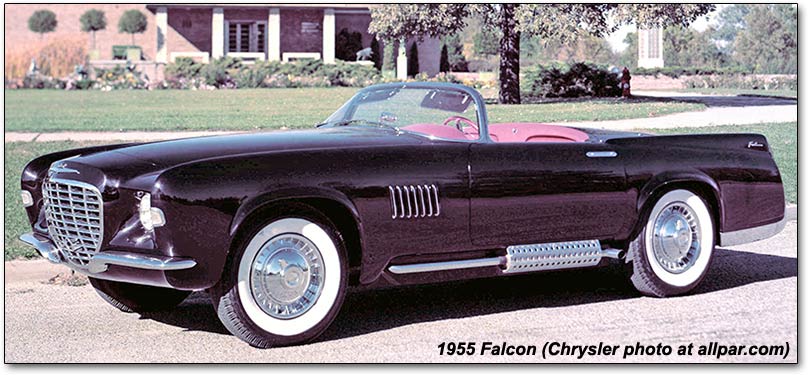 The 1955 Chrysler Falcon two-seater was a showcase for the new Hemi engines, and came out at around the same time as the Thunderbird and Corvette; it was production-intent but never approved. The Valiant was originally to have been named after that two-seater, but Ford grabbed the name just as it was about to go into production.
[The following photos and specifications were provided by Mark Vaccaro, whose father, Fred, worked on restoration of the original Falcon in the 1970s. His father took the photos as well.]
The Falcon had a 276 cubic inch overhead-valve Hemi V8 engine with five main bearings and a cast iron block and heads. It put out 170 gross horsepower with 255 lb-ft of torque at 2,000 rpm. The compression ratio was 7.5:1, and a two-barrel downdraft Stromberg carb was fitted. This connected up to a two-speed PowerFlite automatic. The differential had a hypoid final drive (3.54:1 ratio) with semi-floating drive axles. It was, needless to say, rear wheel drive.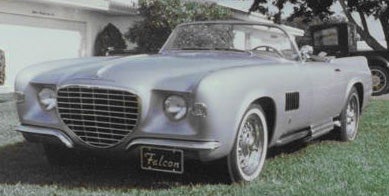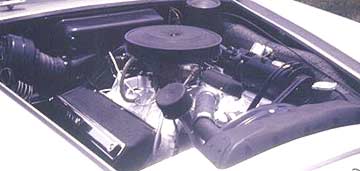 The front suspension used individual unequal-length upper and lower control arms, coil springs, and hydraulic shocks — no torsion bars. The rear suspension had the usual rigid axle and leaf springs.
Acceleration was good for the time, with a ten second zero-to-sixty sprint, a 17.5 quarter mile (at 82 mph), and a top speed of 115 mph. Gas mileage was quoted at about 13 city, 16 highway.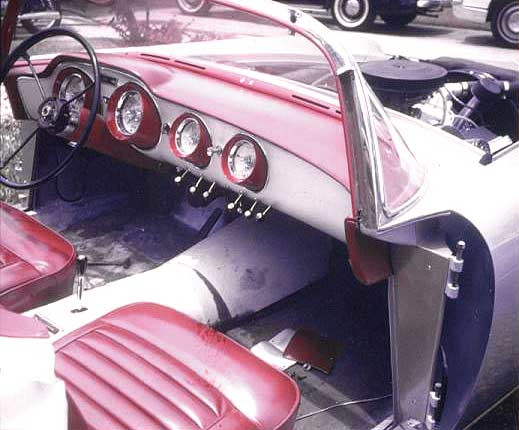 The wheelbase was a mere 105 inches (three inches shorter than the eventual Valiant, which would, to be fair, seat four). The length was 182 inches, the width 68 inches, and the height 51 inches. Ground clearance was five inches. The weight was 3,300 lb., not too heavy (again, for the time) partly because of the integrated body/frame construction.
The interior was advanced for the time, with individual, adjustable bucket seats, leather upholstery, and concave inner door panels to reinforce the "cockpit feeling."  Its "forward look" styling included a wide, sloping windshield, sharply defined, sloping front fenders, "upswept" rear fenders, and fender louvers. The spring-balanced manually-operated convertible top was covered completely by a folding lid. The wire wheels had simulated knock-off hubs. The externally mounted dual side exhausts added detail to the side view.
The interior used red and ivory leather, with individual, adjusting bucket seats. The exterior was done in "Gauntlett Black."  The interior was similar to the FlightSweep, which debuted in the same year, with some key accessory and styling differences.
Specs: 182 inches long, 68 wide, 51 tall. Tires were 7.60 x 15. The transmission was a PowreFlite two-speed with floor-mounted shifter. The car had power brakes, electric windows, and power steering.
More Chrysler concept cars(at allpar) | More Valiant history
Valiant Search
Cars
Sections
Regions
Technical
Performance