The Valiant cars, including the Chrysler Valiant Charger, Drifter, Ute, and Pacer; Dodge Dart, Charger, 3700 GT, and Demon; and Plymouth Duster, Twister, Scamp, and Barracuda. Latest update: repairs, March 2015.
The Valiant-Dart family - Plymouths, Dodges, and Chryslers
In its first year, the sporty Valiant by Chrysler took first through seventh place in NASCAR's compact car races — and won the Mobil Fuel Economy Challenge.
Muscle versions, like the, Plymouth Duster and Valiant Charger, had hot engines and serious performance, but the Plymouth Valiant and Dodge Dart never lost their reputation for rock-solid engines. The Valiant was also the basis of the Dodge Dart,early Plymouth Barracudas, and Australian Pacer — economy and racing cars, panel vans and coupes.
Related: Other A-bodies | Plymouth Duster | Dodge Demon | Chrysler 3700 | Plymouth Barracuda | Pacer | Drifter | Police
"Darts and Valiants were the Energizer bunnies of compact cars, and many are still on the roads, their reputation for longevity intact." — The New York Times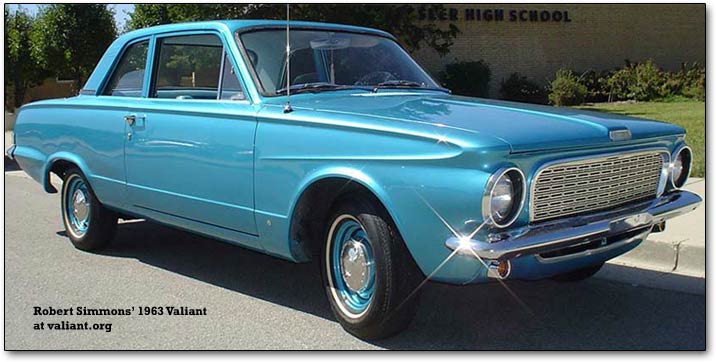 Valiant history (and Dart, Duster, etc.)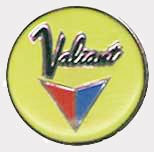 The Valiant was launched in 1959. European in nature, from its high-revving engine to its curvaceous body, it had an alternator (a Chrysler first), a pushbutton automatic, and a torsion bar suspension, once unique to expensive cars, for superior handling. The last Plymouth Valiant was produced in 1976, when it was replaced by the Plymouth Volare; the Chrysler Valiant continued in Australia through 1980. In South America, the car lasted until 1982 as the Dodge Dart, Chrysler 3700, and Dodge Charger. It continued in modified form, as the Dodge Diplomat / Plymouth Gran Fury, until 1989 — a thirty year run.
See launch notes from Chrysler's executives and styling leader, and from the engineering project leader.
"Rarely has a car with so little sex appeal been so popular for so long." — Author Known
Related: Creating the Valiant | Chronology | Models | Duster development | Dodge Dart
Australia, Europe, South America
The most impressive Valiants were made in Australia, where a Hemi-head six-cylinder engine, fed by Weber carburetors, set a speed record which (arguably) still holds. Chrysler Valiant Chargers became New Zealand's most successful racing car.
In Europe, the compact car, with luxury features added, was popular in Spain; it was a sales leader in South Africa, and was available in numerous forms in South America.
"The Swedish Valiant had a very good reputation for reliability, they said that it was so good even a cop couldn't break it." — Mattias Johansson
Related: Australia | New Zealand | Canada | South Africa | South America | Spain
Valiant performance and racing cars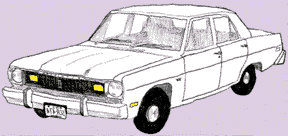 High-performance Plymouth Valiants included the early HyperPaks and Lotus racing Plymouth Valiant, big-block-eating 340s, the 383 Dodge Dart GTS, 440-powered Dodge Dart GSS, supercharged 1972 Gran Spaulding Dodge Demons, and Hurst-prepared 426 Dodge Darts. Even owners of the entry-level cars can upgrade their slant six engines.
In 1976, the Valiant-derived Plymouth Duster and Dodge Dart Sport were the fastest four-passenger cars in America, with a top speed of 121.8 mph (2.7 mph behind the Corvette). Australia's Valiant Charger and Pacer set records and won car races in New Zealand. The Plymouth Feather Duster achieved a 36 mpg rating.
Sean Renteria took a supercharged 1965 Valiant up to 209 mph in 6.63 seconds in 2007, setting a new world record quarter-mile time.
New Zealand racing | Lotus Valiant | V8 engines | Hemi Six | Pacer | Chargers | vs. Mustangs
Plymouth - Chrysler Valiant and other A-body cars
The Valiant and its siblings would change their shape and options, but their reliability would remain. We have specifications, stories, information, and photos covering a wide range of models and years.
Specs | Engines | Transmissions | Valiant Stories
Photos: North America | South America | Australia/New Zealand | Ranger, Safari, and Regal | Pacer | VIP
If you own a Plymouth Valiant, Plymouth Duster, Dodge Dart, Demon, etc., visit the repairs and parts page. Also visit:
Valiant / Duster / A-Body Forum | Books | Allpar | acarplace car reviews
valiant.org was first set up in 1998; it is based on a site that started in 1994.
Site Info: Terms of Service and Privacy Policy | Site News | Links
Valiant Search
Cars
Sections
Regions
Technical
Racing cars